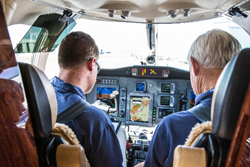 We are proud to be the first authorized provider to bring the trusted SiriusXM services to business aviation customers. This offering enhances the experience of both pilots and passengers, said Jason Natwick, SD Vice President of Products & Strategy.
Orlando, Florida (PRWEB) November 01, 2016
Satcom Direct (SD) now provides SiriusXM satellite weather and radio to the business aviation industry, delivering customers superior graphical weather services and a myriad of audio entertainment options while in flight. This is the first time SiriusXM services have been made available through a business aviation service provider.
SiriusXM provides complete, North American coast-to-coast high-resolution weather and in-flight entertainment. SD customers have access to both the SiriusXM Aviation Weather Pro Service and SiriusXM's All Access audio package, which boasts more than 150 channels of commercial-free music, plus live sports, news, comedy and entertainment.
"We are proud to be the first authorized provider to bring the trusted SiriusXM services to business aviation customers. This offering enhances the experience of both pilots and passengers," said Jason Natwick, SD Vice President of Products & Strategy.
"We are very pleased to work with Satcom Direct to provide our superior weather and world-class programming to the business aviation industry," said Dave Wasby, Vice President of Aviation and Marine Services at SiriusXM. "Adding our weather and audio to Satcom Direct's portfolio of managed services will increase convenience and add value to Satcom Direct customers."
The SiriusXM Aviation Weather Pro Service helps maximize situational awareness so pilots can navigate with confidence. With no line-of-sight restrictions and no altitude limitations, pilots can make informed decisions from taxi to touchdown.
The Pro Weather Service is already popular with those who fly frequently. On long routes or at high altitudes, it delivers detailed weather and data elements including: NEXRAD Storm Cell Attributes; Cloud-to-Cloud and Cloud-to-Ground Lightning Strike Locations; High-Resolution Composite and Base Reflectivity Radar; Surface Visibility; TAFs and METARs; extended forecasts; graphical Winds and Temperatures Aloft; Echo Tops, six levels of graphical turbulence, Icing, TFRs and more.
The All Access programming package is SiriusXM's most extensive offering and includes Howard Stern, every NFL, MLB®, and NBA game, every NASCAR® race, plus NHL® games, PGA TOUR® coverage and live college sports, as well as SiriusXM's wide variety of commercial-free music, plus talk programming, comedy and several exclusive online-only channels. All-Access subscribers also get access to SiriusXM programming when they are not flying, on the SiriusXM app and online at siriusxm.com.
A compatible receiver from Garmin, Heads Up Technology, Honeywell/Bendix King or Rockwell Collins XMWR-1000 is required for activation.
About Satcom Direct: Satcom Direct (SD) provides global connectivity solutions for business and general aviation, military, government, and heads of state aircraft, as well as operations in areas with connectivity limitations such as remote locations, large scale events, and disaster recovery. SD is a technology innovator. Since 1997, its teams have worked to advance the technology of connectivity, making SD the first in the marketplace to deliver numerous advancements and capabilities. The company is a premier Inmarsat Distribution Partner (including Jet ConneX), Iridium Service Partner, ViaSat preferred reseller, and the Exclusive Service Provider for SmartSky Networks.
SD World Headquarters and primary operations center is located in Melbourne, Florida, with additional office locations in the United States, Canada, UK, UAE, Switzerland, Hong Kong, Australia, Russia, Brazil, and South Africa. For more information regarding SD, visit http://www.satcomdirect.com, e-mail sales(at)satcomdirect(dot)com, or call U.S. +1.321.777.3000 or UK +44.1252.554.460.
About SiriusXM: Sirius XM Holdings Inc. (NASDAQ: SIRI) is the world's largest radio company measured by revenue and has more than 30.6 million subscribers. SiriusXM creates and offers commercial-free music; premier sports talk and live events; comedy; news; exclusive talk and entertainment, and a wide-range of Latin music, sports and talk programming. SiriusXM is available in vehicles from every major car company in the U.S. and on smartphones and other connected devices as well as online at siriusxm.com. SiriusXM radios and accessories are available from retailers nationwide and online at SiriusXM. SiriusXM also provides premium traffic, weather, data and information services for subscribers through SiriusXM Traffic™, SiriusXM Travel Link, NavTraffic®, NavWeather™. SiriusXM delivers weather, data and information services to aircraft and boats through SiriusXM Aviation, SiriusXM Marine™, Sirius Marine Weather, XMWX Aviation™, XMWX Weather, and XMWX Marine™. In addition, SiriusXM Music for Business provides commercial-free music to a variety of businesses. SiriusXM holds a minority interest in SiriusXM Canada which has approximately 2.7 million subscribers. SiriusXM is also a leading provider of connected vehicles services to major automakers, giving customers access to a suite of safety, security, and convenience services including automatic crash notification, stolen vehicle recovery assistance, enhanced roadside assistance and turn-by-turn navigation.
To download SiriusXM logos and artwork, visit http://www.siriusxm.com/LogosAndPhotos.
This communication contains "forward-looking statements" within the meaning of the Private Securities Litigation Reform Act of 1995. Such statements include, but are not limited to, statements about future financial and operating results, our plans, objectives, expectations and intentions with respect to future operations, products and services; and other statements identified by words such as "will likely result," "are expected to," "will continue," "is anticipated," "estimated," "believe," "intend," "plan," "projection," "outlook" or words of similar meaning. Such forward-looking statements are based upon the current beliefs and expectations of our management and are inherently subject to significant business, economic and competitive uncertainties and contingencies, many of which are difficult to predict and generally beyond our control. Actual results and the timing of events may differ materially from the results anticipated in these forward-looking statements.
The following factors, among others, could cause actual results and the timing of events to differ materially from the anticipated results or other expectations expressed in the forward-looking statements: our substantial competition, which is likely to increase over time; our ability to attract and retain subscribers, which is uncertain; consumer protection laws and their enforcement; the unfavorable outcome of pending or future litigation; the market for music rights, which is changing and subject to uncertainties; our dependence upon the auto industry; general economic conditions; the security of the personal information about our customers; existing or future government laws and regulations could harm our business; failure of our satellites would significantly damage our business; the interruption or failure of our information technology and communications systems; our failure to realize benefits of acquisitions or other strategic initiatives; rapid technological and industry changes; failure of third parties to perform; harmful interference to our service from new and existing wireless operations; our failure to comply with FCC requirements; modifications to our business plan; our indebtedness; our principal stockholder has significant influence over our affairs and over actions requiring stockholder approval and its interests may differ from interests of other holders of our common stock; and impairment of our business by third-party intellectual property rights. Additional factors that could cause our results to differ materially from those described in the forward-looking statements can be found in our Annual Report on Form 10-K for the year ended December 31, 2015, which is filed with the Securities and Exchange Commission (the "SEC") and available at the SEC's Internet site (http://www.sec.gov). The information set forth herein speaks only as of the date hereof, and we disclaim any intention or obligation to update any forward looking statements as a result of developments occurring after the date of this communication.