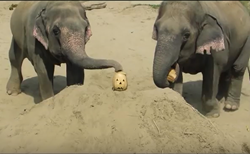 "There are currently 20 elephants living at the center—and all of them have been rescued from lives of cruelty and abuse," says Wildlife SOS executive director Nikki Sharp. "It was touching to see them playing trick or treat like kids again!"
Mathura, India (PRWEB) October 29, 2016
Halloween can be a fright, but these elephants clearly weren't all that spooked by the jack-o'-lanterns decorating their digs at the Elephant Care and Conservation Center in Mathura, India. In fact, the plucky pachyderms turned them into tasty Halloween treats. The elephants, rescued from abusive situations by conservation group Wildlife SOS, appeared to have a real bash celebrating Halloween. For proof, have a look at the Wildlife SOS video:
https://www.youtube.com/watch?v=ZBNJnKias30
The celebration allowed Wildlife SOS staff to get into the holiday spirit too, but having the carved pumpkins also served a practical point, providing both a nourishing snack and a new experience for the elephants. Elephants are highly intelligent and curious animals, and finding pumpkins filled with treats seemed to stimulate them—in fact, several tried to eat more than one pumpkin at once. Wildlife SOS executive director Nikki Sharp said the celebration was especially touching given the elephants' backgrounds.
"All of them have been rescued from lives of cruelty and abuse," said Sharp. "It was awesome to see them playing trick or treat in their own way! They really seemed to enjoy themselves." The Elephant Care and Conservation Center currently houses 20 elephants, but Wildlife SOS plans to expand the center in the coming months if funding allows.
For more information, please contact Wildlife SOS USA Communication and Development Specialist John Pecorelli by telephone at 801 / 750-0301 or by email at john(at)wildlifesos(dot)org.
About Wildlife SOS: Wildlife SOS is one of the largest rescue and conservation charities in South Asia, operating 10 wildlife rehabilitation facilities across India, including the world's largest sloth bear rescue center and the recently established Elephant Conservation and Care Center, which is the first in India and currently houses 22 rescued elephants. Wildlife SOS runs a tribal rehabilitation project that aims to create an alternative livelihood for poachers and other indigenous communities that once depended on wildlife for a livelihood. We also run a leopard rescue center, a wildlife hotline in New Delhi and Agra, and Forest Watch, which is an anti-poaching wildlife crime enforcement unit. More information about the organization can be found at http://www.wildlifesos.org. The U.S. branch of Wildlife SOS is based in Salt Lake City, Utah, and received 501(c)3 charity status in 2005.