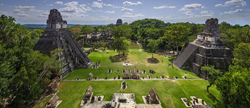 The Winter Solstice is an event that has been celebrated right here for thousands of years
San Ignacio, Belize (PRWEB) November 02, 2016
Just in time for Christmas holiday planning, The Lodge at Chaa Creek recently announced a new limited time Belize vacation package that combines a relaxing holiday with hands-on cultural exploration centred on the 2016 winter solstice, the Belizean eco-resort's marketing administrator says.
Roberto Harrison was announcing the 2016 "Cultural Winter Solstice" Belize vacation package that this year is being offered from December 19 to 23 and in several versions to accommodate a range of interests, budgets, and time frames.
"The Winter Solstice falls on December 21, 2016, and we appreciate that different people have different schedules during that time of year, so we're making it easy for everyone to join in this year's observances by offering several ways to participate, from a four day vacation to a weeklong cultural extravaganza that takes guests across the length and breadth of Belize" he explained.
Mr Harrison also advised that people start planning and booking now to be assured an opportunity to participate.
"Due to the nature of our Maya Winter Solstice celebration, numbers are necessarily limited," Mr Harrison explained, "We want to ensure that our guests are able to experience, learn, ask questions and really come to know the cultures and people we highlight during the winter solstice. We also want people to enjoy a relaxing vacation that's leisurely paced and entertaining as well as edifying," he said.
Situated in the ancient Maya heartland of Belize, located between the sprawling ancient metropolises of Caracol and Tikal, Chaa Creek was once a thriving agricultural and trade centre during the reign of the Maya empire. Since opening as one of Belize's first eco-resorts in the 1981, owners Mick and Lucy Fleming hosted a number of research projects in their 400-acre private nature reserve and have always incorporated Belizean culture in their tours and activities, Mr Harrison said.
Solstices and equinoxes had major significance for the highly advanced Maya civilisation, he explained, and observing them has become a tradition at Chaa Creek that attracts a growing number of participants each year.
"During the winter solstice of 2012, when there was worldwide speculation that the Maya predicted the end of the world would occur on December 21, Chaa Creek spent the year debunking all these erroneous predictions and then threw one of the biggest winter solstice parties in the world, with educational workshops, introductions to Maya history, culture, arts and music, culminating in a Maya feast and large procession to a Maya temple located here on our property.
"As we expected, the world didn't end that December, and we've continued to hold winter solstice celebrations ever since, and while not on that scale, we do use the event as a way to help people learn about the Maya and other local cultures during a very enjoyable vacation," Mr Harrison explained.
For the 2016 winter equinox, Chaa Creek is offering several ways to enjoy the winter solstice.
The 2016 Belize Culture Winter Solstice Celebration is a four day all inclusive Belize vacation package offered from December 19 to 23 2016 that includes eco-luxe accommodation, all meals, pick up and drop-off at the Belize international airport with an optional visit to the Belize Zoo, visits to the San Antonio Women's Group and Maya temple of Xunantunich, a choice of jungle zip-lining or excursions to the Barton Creek cave or Rio On Pools, a downstream canoe paddle to San Ignacio Town and the Maya chocolate factory, Belizean musical entertainment with marimbas, the Panerrifix Steel Band and a "Flauta Maya" performance by Maya maestro Pablo Collado, a story telling evening with the Belize Pioneers, a full Maya buffet, horseback riding or a Macal River tour aboard the Miss Macal, as well as unlimited access to all on-site activities such as the Belize Natural History Museum, Blue Morpho butterfly farm, Maya Medicinal Plant Trail and more.
"It's a full and very instructive four days, but structured in a way that still leaves plenty of time for swimming and lounging around the infinity pool or in a hammock on your private veranda, relaxing in the jungle lounge or lingering after a great meal in our farm-to-table restaurant.
"The night of the solstice promises to be an unforgettable experience that we want our guests to be able to appreciate just as the Maya have for thousands of years – with feasting, music and an understanding of its cultural significance," Mr Harrison said.
And new for the 2016 winter solstice, for the first time guests can expand the solstice celebration to include a weeklong "Cultural Grand Tour" that takes guests on a journey throughout Belize to visit traditional villages to learn cooking and other skills, a river crossing on a hand-cranked ferry to a pastoral Mennonite farming community and enjoying a range of activities before settling in for a three day "Garifuna cultural immersion" in the seaside village of Hopkins on Belize's Caribbean coast, where guests will stay at the Villa Verano Luxury resort.
"It's a way to really get to know the land and cultures of Belize in one of the most exciting, ambitious tours ever offered here. People come away with a deep understanding of Maya, Mestizo, Creole and Garifuna cultures as well as the German-speaking Mennonite and East Indian, Asian and other influences that makes Belize such a vibrant melting pot," Mr Harrison said.
"Families, couples, groups and individuals all find it exciting and say they come away richer for the experience. Personally, I think it would be the ultimate Christmas gift for anyone interested in the nature and the world," he said.
Mr Harrison said that travellers not taking advantage of the packages and tours can still arrange to participate on the day and night of the solstice.
"It's an amazing opportunity we'd like as many people as possible to enjoy," he said,
"But as a limited time offer that can only accommodate so many guests, it is important to start planning and make bookings now," he added.
Mr Harrison said people can contact their travel agents or Chaa Creek directly for further details and to secure reservations.
"The Winter Solstice is an event that has been celebrated right here for thousands of years, so we've always felt an obligation to do it right.
"And with Christmas being celebrated here and around the world in December, it's interesting to understand and take part in a celestial event celebrated thousands of years before Christ was born while being surrounded by a vast, timeless rainforest.
"It certainly gives you a unique perspective on things," Mr Harrison said
The Lodge at Chaa Creek is a multi award winning eco resort set within a 400-acre private nature reserve along the banks of the Macal River in Belize.