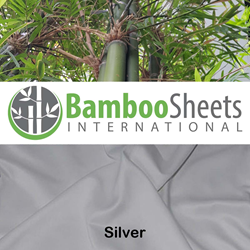 After extensive research and customer feedback, Bamboo Sheets INTERNATIONAL has created an exciting new range of colors. With a focus on modern home décor, we are thrilled to bring silver, sage green and jet black into our product range
(PRWEB) October 31, 2016
Exquisitely soft 100% bamboo sheets are now available in an extra three colors allowing chic US home-owners more choices to better match to their bedroom decor, thanks to Bamboo Sheets INTERNATIONAL.
The company is a premium supplier of high quality bamboo bed sheets in the US, having launched sales here in October 2015.
Since then, customer feedback has inspired the company to offer a new range of three colors, said Drew Robbie, Bamboo Sheets INTERNATIONAL's General Manager.
"After extensive research and customer feedback, Bamboo Sheets INTERNATIONAL has created an exciting new range of colors. With a focus on modern home decor, we are thrilled to bring silver, sage green and jet black into our luxury bamboo bedding range," Mr Robbie said.
This classic new range of solid color choices means they are easier to match to bedroom decor than patterned sheets. These luxury-feel bamboo sheets will also stand the test of time.
Bamboo Sheets INTERNATIONAL's products are made from bamboo using the viscose process. As well, the company has selected the highest quality fabric following extensive testing of dozens of manufacturers and suppliers.
Mr Robbie also added: "This means we've done the hard work for you. Our bamboo sheets are exceptional in their tailoring and finishing. Once you've slept between a set of ultra smooth bamboo sheets, and kept cool in summer while warm in winter, you'll never go back to another fiber."
The high-quality sheets are available in queen, king or California king size through Bamboo Sheets INTERNATIONAL's website. Payments are via the secure online payment portal – protected by Comodo SSL for payment security and customer protection. All Bamboo Sheets INTERNATIONAL products have a 30-day money-back guarantee. As well, they can be bought through Amazon.com, offering customers the protection of Amazon's 30-day money-back guarantee and secure credit-card processing.
Bamboo Sheets INTERNATIONAL is part of Ardito Group, a company specializing in superb quality home wares and personalized customer service.