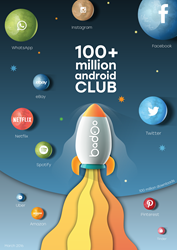 London, England (PRWEB UK) 9 March 2016
Badoo, the world's largest dating network announces today that it reaches 100 million downloads on Android. With 60 million active users in over 190 countries, and 400,000 new people signing up for a Badoo experience each day, the company is the fastest growing dating platform in the world, and the first ever dating app to make it to the very exclusive '100 million club' in the Google Play store.
Other companies that hit the 100 million mark on Android include Whatsapp, Snapchat, Spotify and Twitter. In contrast, Tinder and other apps such as Amazon, Uber & Pinterest have not reached this number.
"We're really excited about today's milestone," said Alexandra Chong, President of Badoo. "With 10 years of existence, Badoo has the industry's deepest insights and experience, and knows how to use this wealth of information to create a fantastic user experience and sustain incredible growth and momentum."
Alexandra Chong recently joined Badoo to drive the company's strategy, business development and communications.
***THE END***
About Badoo
Badoo is the largest dating network in the world. With 60 million active users, across 190 countries and with 250 employees worldwide, Badoo provides the best technology for people to meet, because happiness is better shared. More than 400,000 people sign up for a Badoo experience each day and over 350 million messages are sent and 10 million photos are added to the Badoo platform, with users spending an average of 1.8 hours daily on the Badoo experience, for a total of over 12 billion swipes