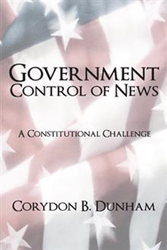 RIVERSIDE, Conn. (PRWEB) October 26, 2016
"History shows that governments will always try to control news," says author Corydon B. Dunham. "A three vote majority of the five FCC commissioners, who control the FCC agency, can expand FCC power over broadcasting and the Internet and help reelect an incumbent administration. FCC Chairman, Wheeler, on taking office, immediately tried to take control of all broadcast news with proposed agency investigations of station news bureaus. He failed but the FCC did control news on broadcast stations and networks, including political news, since the beginning of television and for many years. The courts were slow to stop it."
A senior broadcast executive, Dunham describes this in detail in "Government Control of News: A Constitutional Challenge" (published by iUniverse). He reveals how the public lost access to vital information it needed to govern itself well. He says if the administration can regulate the medium, it will find ways to control its content. Furthermore, that this will happen to the Internet unless the public speaks up to object now.
Dunham warns that some would destroy the public's First Amendment freedoms to meet what they claim to be the demands of a modern regulated state. He says that, for example, the former head of the White House Office of Information and Regulatory Affairs, Professor Cass Sunstein – an appointee of President Obama – has written in the past that free speech principles need to be dramatically revised for this purpose. Dunham says this would mean unremitting speech and press censorship by a government agency and end much of the United States' most precious freedoms.
"Government Control of News"
By Corydon B. Dunham
Hardcover | 6 x 9 in | 296 pages | ISBN 9781450264082
Softcover | 6 x 9 in | 296 pages | ISBN 9781450264068
Available at Amazon and Barnes & Noble
About the Author
Corydon B. Dunham enjoyed a lengthy career working on television free press issues as a First Amendment lawyer and executive vice president for a television network in charge of its legal matters, relations with the government and network broadcast standards. He invites readers to visit him at http://www.freepressdunham.com.