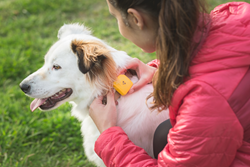 Similarly to how the Pokemon Go phenomenon established a deeper connection between people and their virtual pals, we hope Findster Duo does the same for our real life furry friends, bringing us even closer together and healthier
San Francisco, CA (PRWEB) October 31, 2016
Findster Technologies' latest pet tracker, Findster Duo, aims to redefine the relationship between pets and owners: not only does it let owners know where their furry friends are in real time, it tracks each pet's activity levels so their health can be assured. But the system also includes its own way of promoting a healthy lifestyle - by stimulating friendly competition. It has been a huge success on Kickstarter having achieved over 250% funding with 24 days to go.
Findster Duo analyzes each pets' performance in detail, down to the number of steps taken. All the key data and information is then presented under several different categories, where the owner can track his buddy's progress over time - he's able to see how much time his pet has been spending walking or sleeping, how much distance he's been covering, the top speed he's reached.
But this is just where the fun begins: the system makes it possible to connect with others and compare scores. So if an owner is convinced his Labrador is the fittest dog in the state of Texas or he's just curious about how his buddy performs compared with other Labs, he'll be able to find out. A number of challenges are also included - it'll now be possible to find out which pet really is the fastest of the bunch by challenging friends for a quick race in real time.
"With Findster Duo, we wanted to accomplish a product that could be useful beyond the concept of GPS tracking", said co-founder and CEO David Barroso. "Knowing you can find your buddy whenever you want does wonders for your peace of mind, but our relationship with pets involves much more than just assuring their safety. In the end, it's all about going out and having fun with our pets, and we wanted to bring something new to the table regarding this simple concept."
To complement these features, a rewards system is also implemented. The system measures each step and mile the pet walks and rewards the owner with discounts on their favourite food when milestones are achieved, further encouraging owners to be active and helping pets to stay healthy. To guarantee this, Findster has already established partnerships with a network of high-quality grain-free pet food suppliers.
"This level of engagement through gamification is something we believe will help encourage a healthier lifestyle for both owners and pets", said David. "Similarly to how the Pokemon Go phenomenon established a deeper connection between people and their virtual pals, we hope Findster Duo does the same for our real life furry friends, ultimately bringing us even closer together."
Findster Duo's Kickstarter campaign has already reached over 250% funding and will run until November 24. The system is available from $99 and perks are set for delivery before Christmas. For a full rundown of the pledge levels visit their Kickstarter.
About Findster Technologies
Findster Technologies is a venture-backed startup, founded by a mix of engineers and designers with a passion for developing products that have a direct impact on people's lives. In 2014, the company introduced Findster, the first GPS tracker without monthly fees for kids and pets. The project was successfully funded on Indiegogo, with more than 1200 backers from over 50 countries. After developing, producing and delivering Findster, the team centered their efforts on collecting feedback from users in order to conceive the next generation of GPS trackers, originating Findster Duo. Part of the European Space Agency (ESA) incubation program, since 2016 Findster is also alumni of HAX - the world's #1 Hardware Startup accelerator.
Video: https://vimeo.com/186242577
Press Kit: getfindster.com/mediakit
Media Contact
André Carvalheira
+351 919 473 299
andre(at)getfindster(dot)com