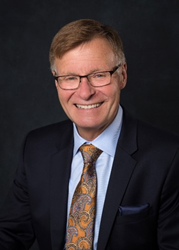 Atlanta, GA (PRWEB) November 01, 2016
Steve Blue, the CEO of Winona, Minnesota-based Miller Ingenuity, has been selected as the Chairman of the Safe America Foundation's CEO Network.
Mr. Blue, a highly-regarded executive known for his voice in promoting enhanced American business leadership, was selected by the Safe America Foundation's Board of Directors based on his outstanding leadership skills. He will be installed at the November 19 WorldSafe Gala to be held at the Delta Flight Museum in Atlanta, Georgia.
"Over the past few months, we've been looking for a leader who typifies the best in C-level leadership – a person whose exemplifies the best at the CEO level," said Safe America Board Chairman Martin Swarbrick. "Steve was our first choice – demonstrating the kind of leadership we want to see others offer."
In Mr. Blue's new role, he will work with leaders around North America, helping progress high-level discussions and forums to advance safety in 5 key areas: transportation, technology, environmental safety, community safety and disaster resiliency.
Mr. Blue will spearhead regional CEO Summits in key cities in 2017, along with leadership forums in New York at the new Freedom Tower. He will also facilitate a Capitol Hill Safety Summit before Congressional leaders.
"We picked Steve because he's the kind of person emerging business leaders need to emulate," noted Safe America CEO Len Pagano. "The innovative approach Steve has brought to rail safety via Miller Ingenuity is the very kind of approach we want to illustrate for other business segments."
"I'm honored to have the opportunity to lead the CEO Network," Blue commented. "I believe that today's business executives need to play more of a role in protecting not only their corporate assets, but also the customers and communities they serve," he said. "Through the CEO Network, we'll offer training that will advance how CEOs are prepared to handle crises – whether it's an active shooter incident or a natural disaster like a tornado or hurricane."
Blue added that today, safety is a key concern for ALL corporate leaders. He noted that beyond physical disasters there is a growing risk to online assets.
"Minimizing cyber risks is one of the key areas we'll focus on," Blue said. "You don't have to be an IT expert to know you need to protect your web sites and intellectual property today. And, with the 'Internet of Things' dawning, we have greater risks that every executive needs to understand and prepare."
Blue added, "We're going to focus on educating CEOs so they 'get it' – and don't risk being exposed to hacks that shut down their enterprises."
Blue invites business leaders interested in being involved – and being a leader at the C-Suite level – to contact Len Pagano at (770)-509-7958. An initial meeting of CEO Network recruits is being planned for the Sears Tower in Chicago in early 2017.
About the Safe America Foundation
The Safe America Foundation is a 501(c)(3) non-profit licensed by the state of Georgia. Chartered in 1994, the Marietta, Georgia based foundation partners with corporate, government, public and private sector organizations, and other nonprofits to improve the safety awareness and preparedness of Americans nationwide.