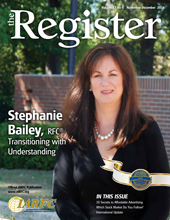 I hope in working toward my goals, I have helped, taught, and earned the respect of others and that I never stop learning...Stephanie Bailey, RFC
Middletown, OH (PRWEB) October 31, 2016
Stephanie entered the family firm on the invite of her father. At the time, she was an elementary school teacher and later admits that her teaching skills help relate to clients. She learned the mortgage industry first as a mortgage broker, life insurance with long term care and became a wealth manager. Ultimately, what was meant as a summer position, turned into a full time dedication to ensuring the financial future of her clients.
Legacy, she defines, is something one receives from the past. It can be a legacy of love, money, family stories and respect to name a few. She takes the personal legacy of her clients very seriously as well as her own. Part of her own journey is to ensure that these clients are taken care of, their goals are concise and that clients are judged by more than their assets. According to Stephanie, she works with people, not numbers.
"In my opinion, the most important thing we do literally every day in our industry is listen," acknowledges Stephanie. "We learn at times, family secrets, turmoil and the joys our clients have had in life." She believes that these revelations are the guiding force in the clients' mindset and something to understand when structuring the legacy they want to leave. It is not always as simple as putting a beneficiary on a form.
When dealing with younger clients, Stephane advises not to accumulate debt - working through college is easier than working through retirement. The same advice is later given along with navigating the financial situations that come with new families and responsibilities. The philosophy is simple – what one does in relation to finances now, directly impacts the future and the finances accumulated in later life.
The Mission Statement at HB Financial relates that their independence is vital to delivering objective unbiased recommendations. True to that principle, Stephanie affirms: "I don't sell and I don't want to sell. My goal is to get our clients to the end of their life having met what they say is their goals, needs and wants in retirement. I will always feel that I need to be independent in order to do that."
To read the entire article on Stephany Bailey, go to http://www.iarfc.org and download the Nov/Dec issue of the Register.