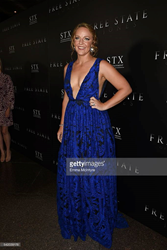 Cahill said, "I'm excited to be able to be a megaphone for the men and women that have fought so hard for us. They fought for us; I will fight for them."
Washington DC (PRWEB) October 31, 2016
Actress and veterans' advocate Kerry Cahill, star of AMC's "The Walking Dead" Season 7, which premiered Oct. 23, has joined American Veterans (AMVETS) as its official spokesperson.
Cahill's relationship with AMVETS and her fierce advocacy for veterans stem from the tragic loss of her father, Army veteran Michael Cahill, who was killed in 2009 during the now-infamous terrorist attack on Fort Hood, Texas, while treating pre- and post-deployment soldiers as a physician's assistant at the Soldier Readiness Program there.
Cahill said, "I am excited to be working with AMVETS, it's one of the oldest and most inclusive veteran's organizations. They have a dedication to service, and I will carry that mantle as well. My dad's mission was simple, get every soldier, every patient, every veteran the care they needed. I will be continuing that mission. I'm excited to be able to be a megaphone for the men and women that have fought so hard for us. They fought for us; I will fight for them." 
In her capacity as AMVETS's spokesperson, Cahill will be actively engaging the media and the public to advocate for veterans and raise awareness about the issues they face, such as lowering an alarming rate of suicide that claims one veteran every 72 minutes.
About Kerry Cahill
Born in Helena, Montana, Kerry Cahill grew up an army brat in small rural towns of Montana, Oregon, and Texas. Cahill studied Drama at Loyola University New Orleans; the British American Drama Academy Oxford; and Queen's University Belfast, later moving to Chicago to study with Second City, the Profiles Theater, and Rick Snyder. Cahill's film break came under the direction of Werner Herzog in Bad Lieutenant: Port of Call New Orleans. Her film career has continued to gain momentum as she has worked alongside Reese Witherspoon, Paul Walker, Uzo Aduba, and Woody Harrelson. She appeared alongside Jason Clark in Terminator Genisys and had a significant role in the recent film Free State of Jones with director Gary Ross and actor Matthew McConaughey. Cahill can now be seen on one of television's hottest shows, The Walking Dead. Having filmed projects such as By Way of Helena, Showing Roots, ZOO, and Free State of Jones, Cahill continues her upward climb to A-list status and is recognized as an award-winning actress that plays strong characters next to some of the biggest names in Hollywood.
For more information about Kerry Cahill please contact her publicist Tracie Hovey at 202-248-5003.