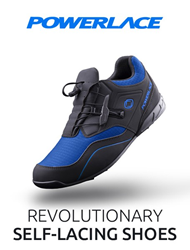 St-Hubert, Quebec (PRWEB) November 01, 2016
The new Powerlace auto-lacing system is the most effective means of tying shoelaces the handsfree way. The mere insertion of the foot automatically engages the lacing system's mechanism. It's really that simple! In reality, no one's ever come up with a credible solution to tie your shoes without having to bend down; they have a low-cost solution backed by the best mechanical engineers.
Their team of rocket scientists have developed a revolutionary self-lacing system that does not require the use of any batteries, motors, or gears. The operating scheme engages the work performance system of highly resistant cables, which virtually add no unnecessary weight to the shoe. The mere body weight of the wearer is all the energy the Powerlace system requires.
After 15 years of research and development, they teamed up with a reputable shoe manufacturer and consulted with a top tier footwear designer. The factory is now ready for the first production run.
The only way to make Powerlace shoes a reality is by achieving their Kickstarter fund-raising goal. Without your help, that sort of large-scale project can normally be achieved only by big companies. From the feedback they received from their customers so far, the product would improve their quality of life - as much for active persons as well as those with back problems.