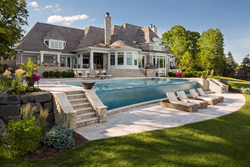 "Our staff – designers, project managers and installation crews – work tirelessly to ensure every project detail is executed to perfection," said Ryan Slipka, Southview Design VP and partner.
Minneapolis, MN (PRWEB) October 31, 2016
Southview Design won four Grand Awards from the National Association of Landscape Professionals (NALP). A Grand Award is the highest honor given by NALP, which awards projects all over the U.S. for excellence in landscape, lawn care and interior maintenance, design/build as well as installation, container plantings and erosion control. Projects range in size from under $25K to over $1M.
Chris Clifton, Southview Design owner, and Ryan Slipka, VP and partner, accepted the awards at the awards presentation during the NALP Landscapes 2016 Convention in Louisville, KY. "It's an honor to be recognized by the national association for the landscape industry," Slipka said. "We are proud of our staff – designers, project managers and installation crews – who work tirelessly to ensure every project detail is executed to perfection."
Southview designer Matt Burton won two Grand Awards – one for the Prior Lake "Private Lakeside Paradise" and a second for the St. Paul "French Quarter Courtyard;" designer Tim Johnson won a Grand Award for the Hastings "Vermillion Vista" and Southview Design took a fourth Grand Award for another lakeside project, Wayzata's "Lakeside Jewel."
"Private Lakeside Paradise" took three years to plan and another two years to build due to the unique challenges posed by this site on a private wooded point on Prior Lake. This home has it all: a swimming pool, decks and enough space for kids to run around. But before construction on the home could begin, the site was leveled and giant boulder walls were installed to hold back tons of backfill needed to raise the grade, control storm water runoff and direct it toward the plant beds. Burton's terraced design incorporates evergreens, natural grasses and other plants to add privacy and blend in with the surrounding woods.
The "French Quarter Courtyard" brings the flavor of New Orleans to the backyard of a 1929 home in St. Paul's Highland Park. Frequent visitors to New Orleans, the owners decided to bring a taste of NOLA back to Minnesota. Burton's challenge was figuring out how to build their dream in the odd-shaped 780 square-foot space between their house and garage. His design concept combined clay brick and both new and reused bluestone on the walkways and seating areas. The custom-designed cedar fence and gate features gas lamps and fleur-de-lis wrought-iron accents. The backyard walkways and patio slope toward plant beds on the other side of the cedar fence so water won't puddle in the seating areas. Burton's design included three different seating areas – one in front, one by the backyard fireplace and a private, shaded corner nook near the fountain that's become the couple's favorite.
The family's wish list for their Hastings "Vermillion Vista" home was extensive: a vanishing-edge pool with hot tub, cabana with fireplace and drop-down screens, outdoor kitchen and wet bar, gas fire pit patio with drop-down movie/TV screen and an audio system for the entire backyard. Southview designer Tim Johnson created a casual, comfortable, fun and easy-to-maintain outdoor living space that uses natural stone materials to define the different living spaces. The pool deck is Olympic stone, the fire pit patio is mahogany stone and the flooring in the cabana and outdoor bar is Travertine; masonry columns unify the design. Boulder walls created a level space for the swimming pool, and shrubs and other plantings were carefully selected to surround the pool without closing it in. The deck was replaced with maintenance-free decking and a kitchen area was tucked underneath. The hot tub, finished in stone veneer, is a focal point and a favorite hangout. The cabana, which features soft, soffit lighting, has drop down screens to protect family and guests from mosquitoes and bugs.
The Wayzata "Lakeside Jewel," perched high on a hill overlooking Lake Minnetonka, afforded no access for the homeowners to reach the lakeshore. Southview Design designer had several challenges: building lakeside walls with an elevation change of 39 feet and building a path from the house to the lake with an elevation change of 57 feet – all while managing soil and storm water retention during construction. They managed this challenge by building a switchback path with granite boulders to hold back the hillside. The graceful curves and lines in this design perfectly complement the architectural elements of the home. A stone terrace with a gas fire pit sits atop the retaining wall while further up the hill and close to the house, there's a vanishing-edge pool, hot tub and outdoor kitchen where the family can enjoy sunset views.
Southview Design's landscape designers have created many inviting, award-winning front entries. For before and after photos of all four Grand Award winners, see http://blog.southviewdesign.com/swimming-pools/southview-design-grand-award-winners-2016.