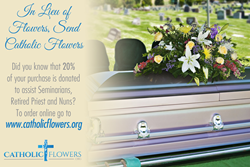 The marriage of a Catholic cause and flowers is genius, its a win ,win !
Orlando , Florida (PRWEB) November 02, 2016
In commemoration of the current extraordinary Holy Year of Mercy, Faith Based Revenue, a nonprofit corporation based in Orlando, FL, will fully launch CatholicFlowers.org.
Catholic Flowers.org will use a proprietary software system to deliver top quality, designer floral arrangements to Churches, residential areas, funeral homes, hospitals and businesses.
"We are very happy to see our project launch, and look forward to seeing the help that we will be able to bring to the Diocese Seminarians and to sponsor our "Heros in Fidelis" (Latin for hero of the faithful) award. This monetary award will go to retired diocesan priests and nuns. The "Heros in Fidelis" award will recognize their hard work and dedication in building the Church throughout their lives," Kevin Harp from Catholic Flowers.org states. "It is an ideal situation that Catholics will be able to use their discretionary money to purchase floral gifts while creating a donation to this worthy Catholic cause."
CatholicFlowers.org is currently serving the Orlando metropolitan area with some of the finest floral arrangements. They offer a full line of products for all occasions including funerals. It is their goal to earn the trust of customers by offering only 5-star quality. Proceeds from the sale of flowers will provide much needed support for the vocations.
This retirement dilemma will only become worse with every passing year, according to the National Religious Retirement office. The unfunded retirement liability will exceed 9 billion dollars by the year 2030. Catholicflowers.org is in part funding "Heros in Fidelis Foundation" which is operated by local members of the Knights of Columbus and lay Catholics.
CatholicFlowers.org has current plans to open new sites to each of the Florida Dioceses. Each of the online stores will be unique to the Diocese it serves. The early responses from supporters have been very positive.
Michelle E., from Florida, recently said, "It's our pleasure to have used Catholic Flowers for our event, the quality of their flowers and professionalism is Amazing. Five stars."
S. Banks from Winter Park, Florida was quoted "The marriage of a Catholic causes and Flowers --Genius, It's a Win, Win!"
For more information be sure to visit http://catholicflowers.org. Or email them at kevin(at)catholicflowers(dot)org.