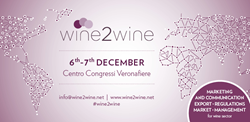 It feels nice to have created a forum that is already maturing into a relaxing post-harvest, pre-Vinitaly pause, where wine industry professionals can kick back and enjoy the content-rich business event concentrated over just two days
Verona, Italy (PRWEB) November 01, 2016
After exploring markets in China and the USA, the third edition of wine2wine, to be held at Veronafiere Congress Center on December 6th and 7th 2016 (http://www.wine2wine.net/iscrizioni-2016) returns with a special focus on Germany, Italy's second largest export market. Italian wine producers and suppliers, journalists and wine professionals will gather for an intense two days of educational and thought-provoking meetings, seminars, and workshops, with a banner line-up of speakers (http://www.wine2wine.net/speakers-eng-wine2wine-2016).
wine2wine, organised and curated by Vinitaly International, is the only event in Italy specifically dedicated to the wine business. The primary purpose is to support Italian wine producers navigate ever-changing markets. "In its third edition, it feels nice to have created a forum that is already maturing into a relaxing post-harvest, pre-Vinitaly pause, where wine industry professionals can kick back and enjoy the content-rich business event concentrated over just two days," says Stevie Kim, Managing Director of Vinitaly International. "More importantly, both the attendees and the speakers get a chance to exchange thoughts on similar challenges and to share opportunities. This Spring, I was privileged to attend a tender simulation at Systembolaget, at the Swedish monopoly (400+ stores and 500+ partner stores throughout Sweden). I realized that I absolutely wanted to have them do the same simulation dedicated to wine producers at wine2wine."
Last year over 2,000 wine professionals and producers attended wine2wine. Turnout is expected to increase for the 2016 forum and the program has been accordingly vamped up. Beyond the special focus on the German market, other key sessions cover wine marketing, big data, storytelling, export dynamics, wine education and commerce.
Tuesday, the 6th of December highlights
The forum will open with Hermann Pilz, chief editor of Weinwirtschaft, the most reliable German wine-trade magazine. The session includes an overview of the German market, Italy's second largest for export, based on the latest CBI report, published in January 2016 (Source: CBI Trends_Wine in Germany, https://www.cbi.eu/sites/default/files/market_information/researches/trends-germany-wine-2016.pdf). In 2015, Germany alone imported 5.5 million hectolitres of Italian wine at a value of over 961 million euro. Hermann will go further in-depth, deciphering an often confusing market, discussing the latest trends, possibile scenarios, and sharing his tips on how to win over the market.
From Germany, it's on to Sweden where winning at the state monopoly system can seem hit or miss. Some of the mystery will be dispelled during "Tender Tasting: lottery or fair game" by Jonas H Röjerman, Head of Product Quality Control at the Swedish retail monopoly Systembolaget. Jonas will lead a maximum of 50 attendees through the simulation of a tender, a rare opportunity to understand the inner workings of an actual selection process.
Closer to home, Willy Klinger, Managing Director of the Austrian Wine Marketing Board, presents a case-history on the marketing and promotional success of Austrian wines. From a country riddled by a wine scandal in the mid-eighties, Austria has gotten back its lustre, despite the challenges of marketing the portfolio of an entire country. With only 45,000 hectares, divided among 16 wine districts, fascinating parallels can be drawn between Austrian wines and marketing the challenging diversity of Italian wines.
Storytelling has become an essential element in wine marketing yet it remains as elusive as it did when it came into vogue. Felicity Carter, editor-in-chief for the German-based Meininger Wine Business International magazine discusses wine marketing trends, what makes a compelling story, and how to deliver it, by effectively adopting the latest social media tools and trends.
Alison Napjus, Senior Editor and Tasting Director, at Wine Spectator tops of Day 1 with the unveiling of the 100 Finest Italian wine producers selected by Wine Spectator for the sixth edition of OperaWine 2017, to be held on Saturday, April 8th 2017. Alison reveals, "We're excited to include nearly twenty new producers in this year's edition of OperaWine. This reflects the impressive dynamism in the Italian wine industry and the extraordinary number of wineries striving to be, and deserving to be, in the top rank of quality producers."
Wednesday, December 7th highlights
How does any brand understand the effectiveness of their story, or marketing strategy? Top brands are harnessing big data to benchmark and make increasingly precise decisions that impact sales and drive revenue. The wine sector lags behind, but not for long. Cathy Huyghe, wine columnist, author and cofounder of Enolytics, a new firm leveraging big data for the wine industry, illustrates how the potency of big data can be a game changer even for the fragmented wine market.
With Italy boasting so many under-the-radar native grape varieties, it's difficult to get traction in the vast and complex US market. James Tidwell MS CWE, cofounder of TexSom, and Drew Hendricks MS CWE, leading beverage education conference, and Beverage Manager with Four Seasons Hotels and Resorts, explains the increasingly influential role of the Master Sommelier in the US wine market, and how Italian wineries can better engage wine professionals and win market share through wine education.
Digital Marketing is more complex than ever, yet offers unrivalled opportunities to build brands. Gino Colangelo, founder of Colangelo & Partners Public Relations and Claire Hennessy, lead account for Italian wines, will sort through to the hottest digital marketing tools and explain how to use them effectively and cost efficiently. Today, brands can leverage new technologies to help drive sales and awareness, without relying on paid media or importers.
Check out the entire wine2wine program http://www.wine2wine.net/program-w2w-2016 contact us at info(at)wine2wine(dot)net. Don't forget to check wine2wine's social platforms for updates https://www.facebook.com/wine2wine and https://twitter.com/wine2wineVerona, and share your experience by using the hashtag #wine2wine.
About:
Veronafiere is the leading organizer of trade shows in Italy including Vinitaly (http://www.vinitaly.com), the largest wine and spirits fair in the world. During its 50th edition Vinitaly counted more than 4,100 exhibitors on a 100,000+ square meter area and 130,000 visitors from 140 different countries. The next edition of the fair will take place on 9 - 12 April 2017. The premier event to Vinitaly, OperaWine (http://www.operawine.it) "Finest Italian Wines: 100 Great Producers," will unite international wine professionals on April 8th in the heart of Verona, offering them the unique opportunity to discover and taste the wines of the 100 Best Italian Producers, as selected by Wine Spectator. Since 1998 Vinitaly International travels to several countries such as Russia, China, USA and Hong Kong thanks to its strategic arm abroad, Vinitaly International. In February 2014 Vinitaly International launched an educational project, the Vinitaly International Academy (VIA) with the aim of divulging and broadcasting the excellence and diversity of Italian wine around the globe. VIA this year launched the second edition of its Certification Course and today counts 54 Italian Wine Ambassadors and 3 Italian Wine Experts.