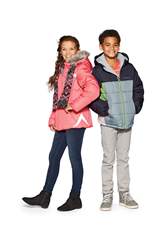 Milwaukee, WI (PRWEB) October 31, 2016
The Bon-Ton Stores, Inc. (NASDAQ: BONT), which operates Bon-Ton, Bergner's, Boston Store, Carson's, Elder-Beerman, Herberger's and Younkers stores, are partnering with local nonprofit organizations to spread the warmth through a Community Coat Drive beginning Tuesday, November 1 through Tuesday, November 8, 2016. Bon-Ton invites customers to donate new or gently used coats and spread the warmth to those in need in their local community. Ladies, men's and children's coats will be accepted in all Bon-Ton stores.
In return for coat donations to the community, Bon-Ton Stores is giving donors an opportunity to save on new
outerwear for the entire family. For each coat received, generous donors will be given a $50 off coupon good towards a $100 or more purchase of any ladies or men's coat, or a $20 off coupon toward a $40 or more purchase of a children's coat.
"Bon-Ton's Community Coat Drive will help spread the warmth this season," said Kathryn Bufano, President and CEO of The Bon-Ton Stores, Inc. "We are delighted to be able to give back locally and hope to deliver more than 25,000 coats in our communities through the generosity of our customers and associates."
Every department store will partner with a local organization to ensure the coats are given to the people who need them most in the community. Some of these agencies include organizations such as the Family Peace Center, Boys & Girls Clubs, Kids Closet, Community and Domestic Violence Centers, Salvation Army, United Way and many other agencies who give back to the community in meaningful ways.
About The Bon-Ton Stores, Inc.
The Bon-Ton Stores, Inc., with corporate headquarters in York, Pennsylvania and Milwaukee, Wisconsin, operates 267 stores, which includes 9 furniture galleries and five clearance centers, in 26 states in the Northeast, Midwest and upper Great Plains under the Bon-Ton, Bergner's, Boston Store, Carson's, Elder-Beerman, Herberger's and Younkers nameplates. The stores offer a broad assortment of national and private brand fashion apparel and accessories for women, men and children, as well as cosmetics and home furnishings. The Bon-Ton Stores, Inc. is an active and positive participant in the communities it serves.
For store locations and information visit bonton.com. Join the conversation and be inspired by following Bon-Ton on Facebook, Twitter, Instagram, Pinterest and the fashion, beauty and lifestyle blog, #LoveStyle.
MEDIA CONTACT:
Christine Hojnacki, 414.347.5329
Christine.Hojnacki(at)bonton(dot)com