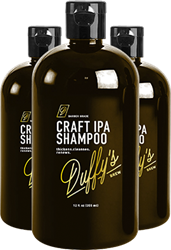 We've experienced unprecedented growth over the last six years. As more studies reveal the harmful effects of chemicals in everyday products, the move towards buying healthier consumables are in greater demand," explains Ashley Carrier
Westford, MA (PRWEB) November 01, 2016
Duffy's Brew, signature brand of the Boston Grooming Company LLC, today announced a new vision for their beer infused hair care line. With a bold new look and feel, and reformulated shampoo and conditioner comprised of grains and natural botanicals, Duffy's Brew is leading a movement towards using more authentic, whole ingredients over chemically enhanced products in beauty and hair care. Forging ahead in this new direction, Duffy's has welcomed partners and investors to gain market insight and reinvent the brand. The company is expected to continue to expand, as well as increase awareness of the inherent benefits non-synthetic formulas have on producing healthier scalps, follicles and hair.
Introduced in 2010, Duffy's Brew, the "Original Craft Beer Shampoo," gained a quick following among beer enthusiasts and the craft brewing industry. However, it has been the proven advantages of proteins from hops in beer that repair damaged hair and produce thicker, more voluptuous tresses, that has given root to a wider acceptance among the general public. "We've experienced unprecedented growth over the last six years. As more studies reveal the harmful effects of chemicals in everyday products, the move towards buying healthier consumables are in greater demand," explains Ashley Carrier, Co-owner and CEO of the Boston Grooming Company. "New segments of buyers purchasing Duffy's, including women ages 21-45 that comprise half of our annual sales, meant that it was time for us to reintroduce Duffy's Brew to the marketplace."
Carrier, along with Co-owner Eric Ryan, have sought the expertise of Bret Williams, former owner of Vermont Hard Cider Company and current board member of Montauk Brewing Company. Williams' investment in the Duffy's brand, and his long-standing experience in the brewing industry will help the pair develop more beer-infused products to expand this personal care line. "There are several opportunities we are exploring. With Bret's insight and business acumen in the brewing industry, we are excited at the possibility of introducing new products into the Duffy's family," says Ryan.
The New York office of creative agency Resource/Ammirati, An IBM Company, was enlisted to spearhead the new image of the company. "The iconic apothecary bottle remains a signature personality of the brand, but we wanted their look and feel to reflect who they are as a company now," explains Gabriel Miller, President of Resource/Ammirati New York.
Resource/Ammirati envisioned a new label for the bottle, with a focus on the Craft IPA ingredients to complement the natural look; and introduced a sleek retro scripted logo in gold lettering to represent the style synonymous with the Duffy's name.
Over the next six months, Duffy's Brew will be rolling out full image-marketing programs, and retailer incentives to capture the attention of new markets and establish the brand as a leading innovator of craft-beer consumables. The company is aiming to promote the healthy and longer-lasting benefits of using Duffy's Brew Shampoo and Conditioning products, and endorse the revolutionary advances in craft-brew personal care and cosmetics to increase market share.
"Duffy's is poised to make a significant shift in the personal care industry and compete with well-known brands. Our authentic formula, and all-natural products being unveiled, play an important part in how buyers are evolving past the big name conglomerates in favor of holistic, artisan ingenuity for healthier, more impactful living."
-------------------------------------------------------------------------------------------------------------------------
About Duffy's Brew
Featured in national publications, and sold throughout the U.S. in in barber shops, spas, and fine retail stores, Duffy's Brew - The Original Craft Beer Shampoo - is a subsidiary of The Boston Grooming Company LLC. Headquartered in Westford MA, co-owners Ashley Carrier and Eric Ryan purchased a boutique line of beer-infused shampoo and conditioners in 2015. Intent on taking the company global by promoting the benefits of craft IPA ingredients in personal care products, The Boston Grooming Company reformulated Duffy's Brew to contain natural preservatives to be distributed worldwide. The success of the shampoo and conditioner lines have led the Duffy's brand to introduce complementary products including Citra Hop Mustache Wax, and Citra Hop Beard Oils.