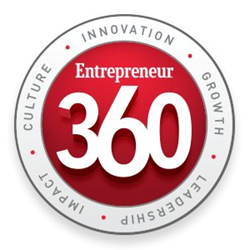 St. Louis, MO (PRWEB) November 01, 2016
Varsity Tutors, the live learning company providing access to more than 25,000 experts on its platform, was recently recognized as one of the "Best Entrepreneurial Companies in America" by Entrepreneur Magazine's Entrepreneur 360 List. The Entrepreneur 360 List is the most comprehensive analysis of private companies in America. Based on this study by Entrepreneur, Varsity Tutors was recognized as a company that has mastered a balance of impact, innovation, growth and leadership.
Since the founding of Varsity Tutors at Washington University in St. Louis in 2007, the business has rapidly grown into an industry leader under the direction of Founder and CEO Chuck Cohn. Headquartered in St. Louis, with additional offices in Seattle and Phoenix, the company helps connect students with in-person tutors in 84 U.S. cities and online tutors nationwide. Online tutoring is available via computer or mobile app, and instant online tutoring in more than 50 subjects enables individuals to access on-demand expertise whenever and wherever they need it.
"It's an honor for Varsity Tutors to be recognized on this list," said Cohn. "This recognition is a testament to the incredible team we've assembled and the caliber of products we're building. I'm excited about the plans and initiatives we have in place to continue our rapid growth and positively impact millions of students."
Honorees were identified based on the results from a comprehensive study of independently owned companies, using a proprietary algorithm and other advanced analytics. The algorithm was built on a balanced scorecard designed to measure four metrics reflecting major pillars of entrepreneurship: innovation, growth, leadership and impact.
"The Entrepreneur 360 List celebrates outstanding companies for the value they bring to the world, not just the worth of their company," said Ryan Shea, president of Entrepreneur Media, Inc. "The companies on this list exemplify growth, not just in top and bottom line, but in their ability to create a superior value for their customers, build adaptive learning cultures, and drive innovation in their marketplace."
For additional details on the Entrepreneur 360 List and the companies recognized, visit: http://features.entrepreneur.com/entrepreneur-360/
About Varsity Tutors
Varsity Tutors is a live learning platform that connects students and professionals with personalized instruction to achieve any goal. To date, users have accessed more than 1 million hours of live instruction on the platform. Additionally, through the company's free online learning tools, mobile applications and books, Varsity Tutors has created an ecosystem of more than 200,000 free practice questions, answers and explanation sets across more than 200 subjects and standardized tests. For more information, visit http://www.varsitytutors.com.
About Entrepreneur Media, Inc.
For nearly 40 years, Entrepreneur Media, Inc. has been serving the entrepreneurial community by providing comprehensive coverage of business and personal success through original content and events. Entrepreneur Magazine, Entrepreneur.com, and publishing imprint Entrepreneur Press provide solutions, information, inspiration and education read by millions of entrepreneurs and small business owners worldwide.