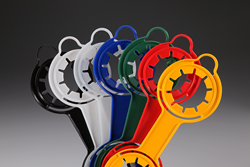 CHARLOTTE, NC (PRWEB) October 31, 2016
Roberts PolyPro, powered by Pro Mach, created an exhibit for Pack Expo in Chicago, November 6-9, showing a range of solutions from its new single bottle handle applicator. This equipment is rated at up to 30 units a minute, all the way to its high speed robotic platform capable of up to 30 or 60 cases per minute, depending on the model. The company also displays for the first time at Pack Expo its new line of recyclable injection molded handles with reduced source material, up to 25 percent, compared to similar handles on the market. (Roberts PolyPro Booth S-3814)
"Roberts PolyPro has steadily broadened its product offering to become a one-stop-shop for handle application solutions," said Roy Tetreault, Vice President and General Manager, Roberts PolyPro. "The machines at Pack Expo bookend our range of automatic applicators, and the injection molded handles represent our latest in a long series of sustainable packaging innovations."
Robotic handle applicators
Introduced at Pack Expo in 2015, the CM30 and CM60 robotic handle applicators – up to 30 or 60 cases per minute, respectively – require less space on the line than other robotic applicators because the robot mounts under the top of the machine's frame, not at the frame's end. These applicators provide optimum flexibility in pack configurations, from single bottle handles up to 12 packs and various combinations in between. The robotic applicators utilize the latest generation of Roberts PolyPro fully recyclable high density polyethylene (HDPE) extruded handles, which are thin, light, and strong. Roberts PolyPro HDPE extruded handles require a quarter of the space of common injection molded handles for lower shipping costs and more efficient storage at the plant.
"High speed, small footprint, flexibility in handle application, and low-cost/high-function handles make this series of robotic bottle-handle applicators an outstanding solution and value," said Chris Turner, Sales Director, Roberts PolyPro.
New single bottle handle applicator
The Roberts PolyPro model SBH 30 is a new automatic single bottle-handle applicator rated at speeds of up to 30 bottles per minute. This new machine features fast magazine style handle loading, simple push button control, rugged welded steel construction, small footprint, and easy movement on casters to different packaging lines within the plant. The SBH 30 applies Roberts PolyPro EasyLift handles onto 0.8 to 2.6 gallon (3 to 10 liter) water and juice bottles. Roberts PolyPro EasyLift single bottle handles on large bottles provide consumers with a comfortable four-finger grip. These carriers, which are 100 percent recyclable, are a consumer convenience feature for large, heavy water and juice jugs sold in convenience, grocery, and big box stores.
Bottle handles for a more sustainable world
Roberts PolyPro introduced earlier this year a new generation of injection molded bottle handles that reduce source material by up to 25 percent for greater sustainability. Even with less material, the Roberts PolyPro design promises superior holding power. These new HDPE handles are 100 percent recyclable. Injection molded handles are offered in two, three, and multipack configurations. The handles are available in any Pantone Matching System (PMS) color and labeled with Universal Product Code (UPC) stickers. The company offers custom design and prototyping for non-standard handles.
For more information on Roberts PolyPro comprehensive offering of handles and applicators, contact sales at 800-269-7409 and visit http://www.RobertsPolyPro.com. Be sure to stop by the Pack Expo Booth S-3814.
About Roberts PolyPro
Roberts PolyPro, powered by Pro Mach, offers innovative product packaging solutions for consumer packaged goods and pharmaceutical companies. The company is a leader in manufacturing plastic and paper bottle carriers, box handles, pour spouts, j-hooks, and a complete line of standard and custom feeder and folder/gluer machinery. Roberts Polypro is based in Charlotte, N.C. Visit Roberts PolyPro at http://www.RobertsPolyPro.com.
About Pro Mach
Pro Mach is a leading provider of integrated packaging and processing products and solutions for food, beverage, consumer goods, pharmaceutical, and other diverse companies. Through multiple brands, Pro Mach provides product packaging and processing equipment, PMMI certified trainers, installation, parts, and service in Bottling & Capping, Primary Packaging, Pharmaceutical Packaging, Flexible Packaging, Material Handling, Labeling & Coding, and End of Line, as well as Integrated Solutions for complete packaging lines.
Pro Mach has a diverse customer base, from Fortune 500 companies to smaller, privately held businesses worldwide, which depend on reliable, flexible, technologically advanced equipment and integrated solutions. Pro Mach is headquartered near Cincinnati, Ohio, with manufacturing facilities and offices throughout the United States, Canada, Mexico, Europe, United Arab Emirates, and China. For more information about Pro Mach, please visit http://www.ProMachInc.com.