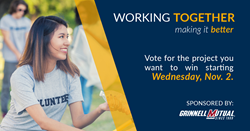 Grinnell, Iowa (PRWEB) November 02, 2016
Ten community projects are finalists in Grinnell Mutual's Working Together Making It Better grant initiative. Now they need your votes!
The public is invited to vote for project finalists on the company's Facebook page. With help from its Facebook fans, Grinnell Mutual will distribute $3,500 in grants to three nonprofit organizations.
"People living and working in rural areas know what it takes to make a community a better place," said Director of Advertising and Community Relations Barb Baker. "Each vote on Grinnell Mutual's Facebook page will help decide which projects will receive one of the three grants."
Working Together Making It Better recognizes the efforts of people across rural communities who are working to enhance their town facilities and landmarks, support their neighbors, and educate their children. These grants are Grinnell Mutual's way of celebrating community collaboration and recognizing innovative community projects.
Working Together Making It Better finalists:
1. The Winterset Dog Park Project in Winterset, Iowa, wants to build fencing for a community off-leash dog park, a multi-phase project nearing completion. The park will serve Winterset's 1,290 registered dogs, the local 4-H club's dog project, and animal care groups.
2. The Friends of Mallard, Iowa, want to build a digital sign to alert Mallard residents to local events and news.
3. Coonskin Cap Brigade in Bellefontaine, Ohio, wants to launch a summer youth program to teach area children outdoor and wilderness skills. The program will also focus on wildlife conservation. The grant would pay for new archery equipment and materials.
4. Tinker Tots Preschool in Bedford, Iowa, wants to replace leaky, unsafe windows in the town's only child-care center.
5. Tails to Trails in Waupaca, Wis., wants to create wheelchair accessible paths in a multi-use dog park. The park will provide safe hiking areas, agility training, bird watching, and environmental studies for everyone in the community.
6. Go! Streets Go in Bismarck, N.D., wants to encourage physical and community activities by intermittent, temporary street closures. Closed streets provide a fun and safe environment for people to be active and to learn just how easy it can be to get around their community without a car.
7. West Central Initiative in Barnesville, Minn., want to purchase a side-by-side utility vehicle to be used at special events and for off-road rescues that cannot accommodate a full-size ambulance.
8. Dickinson State University's Theodore Roosevelt Honors Leadership Program in Dickinson, N.D., wants to promote a "Texting and Driving" campaign to educate people about the dangers of distracted driving. The campaign was formed in honor of the late Janae Moore, who was killed in 2014 while texting and driving.
9. New Market Museum in New Market, Iowa, wants to restore a restroom in a historic school building being repurposed as a museum and community center.
10. "Amp Up the Amp" in Mount Carmel, Ill., wants to build an outdoor stage for community concerts and events.
Voting is now open. To vote, visit Grinnell Mutual's Facebook page. Voting ends Wednesday, Nov. 16, at 2 p.m. CT. The three finalists with the most votes will receive $2,000, $1,000, and $500, respectively, and the winners will be announced on Nov. 16. Vote for your favorite now!
For more information or photos:
Dan McCue
Digital Marketing Strategist
Grinnell Mutual
(641) 269-8289
dmccue(at)gmrc(dot)com