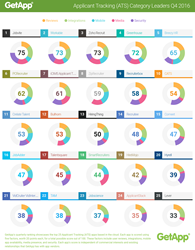 Jobvite has defended its lead in the applicant tracking category for the third quarter running, scoring an impressive 75 points, while Workable has moved its way up from fifth place to second this quarter, only 2 points behind Jobvite
Barcelona, Spain (PRWEB) November 01, 2016
Jobvite has secured the first place position in this quarter's ranking of GetApp's top 25 applicant tracking solutions, extending its lead for the third quarter in a row. Workable came in at second place, while Zoho Recruit came in third.
GetApp's Category Leader ranking rates apps on five criteria, each worth 20 points, for a maximum potential score of 100. These five criteria include user reviews, mobile app availability and ratings, software integrations, media presence, and security. The ranking is intended for business owners and decision-makers as an outline of what to look for when searching for a new applicant tracking solution.
"Jobvite has defended its lead in the applicant tracking category for the third quarter running, scoring an impressive 75 points, while Workable has moved its way up from fifth place to second this quarter, only 2 points behind Jobvite," says Suzie Blaszkiewicz, project manager for GetApp's Category Leader ranking. "Zoho Recruit also deserves a mention, scoring the same total as Workable but placing third because of its slightly lower scores in security and reviews."
Click through to see the entire Q4 2016 Category Leader ranking of the top 25 applicant tracking solutions.
More about GetApp: GetApp is the leading premium business app discovery platform on the web. Headquartered in Barcelona (Spain), GetApp serves as a platform for user-generated and editorial reviews of software and apps for businesses.