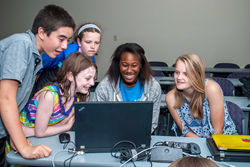 SALEM, N.H. (PRWEB) November 02, 2016
Emagination Computer Camps, a national operator of summer technology camps, is now accepting Early Bird reservations for its 2017 summer camp season, offering a $225 discount to those who reserve their spot before Dec. 1.
To redeem the discount, those who are interested should visit Emagination's website at http://www.computercamps.com, click on "Register Today" in the top-right corner of the web page and follow the instructions on the screen.
The discount can be used toward any one of Emagination's two-week summer sessions for kids and teens, ages 8-17, which balances technology learning with the activities and lifetime benefits of a traditional summer camp experience. It can also be applied toward Emagination's special STEM oriented programs for teens: Emagination Game Design and Emagination Programming Camp.
"We encourage all families who are interested in sending their child to our summer programs to take advantage of the Early Bird discount," said Craig Whiting, executive director. "Emagination offers a unique summer experience for kids and teens to work, play, and live alongside other campers and counselors from around the world who share similar passions for technology."
For more than 30 years, Emagination has been on a mission to educate, entertain, and help develop healthy kids and teens through its core computer camp program which is designed to enable children to express their creativity, advance their technology skills, make friends, learn independence and develop self-confidence.
For more information on Emagination Computer Camps, visit http://www.computercamps.com.