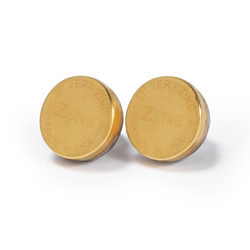 The Wireless Power Summit is the only event that brings together all industry experts... to discuss the latest industry trends...
Camarillo, Calif. (PRWEB) November 01, 2016
ZPower, the world's only developer of rechargeable silver-zinc miniature batteries, is pleased to announce that they will be participating in the 8th Annual International Wireless Power Summit, organized by Smithers Apex, on November 10–11, 2016 in Seattle, Wash. This year's conference will focus on high-watt applications, such as power tools, home appliances, laptops and tablets.
Joshua Duffy, Manager of Electronics Engineering for ZPower, will be on hand to present a session titled The Miniaturization of Wireless Charging. During his presentation, Mr. Duffy will discuss the challenges and benefits of shrinking wireless charging for miniature applications, such as hearables, wearables and other body-worn technologies, and he will share ZPower's plan to develop the smallest wireless charging application available.
In addition to Mr. Duffy's presentation, this year's program will also feature 17 discussions and sessions focused on assessing market trends, technical development and application-related advances, bringing together 150+ global experts in the wireless charging industry.
"The wireless charging industry is growing exponentially, with more and more novel applications being developed for commercial use. The Wireless Power Summit is the only event that brings together all industry experts, including AirFuel Alliance and the Wireless Power Consortium, to discuss the latest industry trends, and this year you'll be joining 150+ of the industry's most influential members in Seattle. You won't want to miss out on the information that will be shared, the conversations that are only possible face-to-face and the technologies that will be demonstrated," said Kimberlee Rohrer, Conference Producers for Smithers Apex.
"Whether you are an analyst, R&D manager, product manufacturer or CEO, Wireless Power 2016 will provide you with the key contacts and insights to develop your business as wireless power technologies proceed toward widespread commercialization," added Rohrer.
Historically, this conference has attracted companies that span the supply chain—from researchers to end users. Past attendees came from organizations like Energizer Household Products, LG Electronics, Powermat, Audiovox, 3MOcean Tomo, IKEA of Sweden, Google, Intel, WiTricity Corporation and Motorola Mobility.
For complete information about Wireless Power 2016, please visit the conference website at http://www.wirelesspowersummit.com.
About Smithers Apex:
Smithers Apex is a global business that provides events, market research, publications and strategic and technical consulting to an expanding list of niche, emerging and high-growth industries, including home and personal care, lighting, imaging and displays, plastic electronics and alternative energy. For more information about Smithers Apex, please visit http://www.smithersapex.com.
About ZPower, LLC:
ZPower is a leader in the development of rechargeable, silver-zinc batteries for miniature battery applications; its headquarters and manufacturing facility are in Camarillo, Calif. The company provides a total solution for hearing instrument manufacturers, which includes advanced silver-zinc battery technology and charger design support. The ZPower solution simplifies new product development and speeds time-to-market. For end users, ZPower batteries deliver unmatched performance and improved user experience, and they are better for the environment. ZPower is ISO 9001:2008 certified, and its facility and devices are registered with the FDA. For more information, visit http://www.zpowerbattery.com.