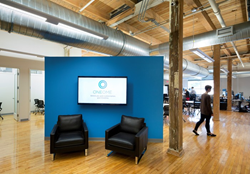 For us, it is an unwavering commitment to the highest possible level of quality, reliability, accuracy, and, above all else, patient care.
MINNEAPOLIS (PRWEB) November 01, 2016
Twin Cities-based pharmacogenomics company OneOme announced today that the College of American Pathologists (CAP) has awarded accreditation to its Minneapolis, Minnesota, clinical laboratory based on the results of a recent on-site inspection.
Considered the "gold standard," CAP accreditation is awarded to laboratory facilities that meet or exceed the quality standards set by the Clinical Laboratory Improvement Amendments (CLIA).
With this accreditation, OneOme, which has been offering its RightMedTM pharmacogenomic test since July 2016, joins the prestigious ranks of some of the most prominent clinical laboratories in the world.
"Acquiring CAP accreditation is a significant advancement for OneOme. It provides industry recognition of our commitment to delivering pharmacogenomic services that meet the highest level of quality and scientific standards," said Paul Owen, CEO of OneOme. "Achieving accreditation so soon after beginning operations is a testament to our entire team and positions us to begin pursuing additional testing opportunities."
The RightMed test is a cost-effective, comprehensive, and clinically actionable pharmacogenomic test covering 22 genes, provided as a part of routine clinical care. The test, clinical report, and interactive online tools can help healthcare providers make timely, evidence-based personalized prescription treatment decisions for more than 340 medications. In addition to the RightMed test, OneOme has also developed a platform for clients to generate the interpretive drug report using genotype or sequence data obtained elsewhere.
Studies show about half of the four billion prescriptions issued each year do not work as intended, and adverse drug reactions are the fourth leading cause of death in the U.S. Genetic factors have been shown to account for up to 95 percent of drug response variability, and the RightMed test can help to identify, based on genetics, which prescriptions may have the most favorable outcomes on an individual patient basis.
The CAP Laboratory Accreditation Program is an internationally recognized program and the only one of its kind to utilize teams of practicing laboratory professionals as inspectors. During the accreditation process, inspectors perform an on-site review of the laboratory's quality management system, including an assessment of the overall lab management team. In a typical inspection, a variety of documents are audited including laboratory policies/procedures, staff credentials, equipment maintenance histories, test validations, and quality control records. In addition, inspectors tour the facility to examine infrastructure and safety, and will often directly observe staff for their adherence to laboratory policies and procedures.
"Laboratory accreditation programs are designed to provide independent confirmation and assurance that laboratories are meeting quality and regulatory standards," said Director of Laboratory Operations, Ross Higgins, MSL (ASCP), for OneOme. "But like other CAP-accredited labs, we believe there's more at stake than just complying with a set of standards. For us, it is an unwavering commitment to the highest possible level of quality, reliability, accuracy, and, above all else, patient care: values which are shared with the CAP accreditation program."
Available worldwide, RightMed is currently available to more than 500,000 patients at Centra Health in the Centra Medical Group Stroobants Cardiovascular Center; in use by Mayo Clinic Center for Individualized Medicine (CIM); in Canada is available through OneOme's partnership with Medcan, Canada's largest executive health clinic and a global leader in assessing clients' overall well-being; and in Puerto Rico, Cuba, and Dominican Republic through a partnership with High Profile Laboratory in Guaynabo, Puerto Rico.
The RightMed test, which costs $249, is ordered by providers through a HIPAA-compliant portal at http://www.oneome.com, where results are made available and retained. Results are tested at OneOme's new CAP-accredited clinical laboratory in Minneapolis.
The OneOme platform was co-developed and exclusively licensed from Mayo Clinic to bring pharmacogenomics into routine clinical care. OneOme is a privately held company backed by early-stage venture firm Invenshure, LLC, and Mayo Clinic. To learn more about OneOme, visit http://www.oneome.com.
###
Editor's Note: Mayo Clinic has financial interest in the technology referenced in this news release. The revenue that Mayo Clinic will receive is used to support its not-for-profit mission in patient care, education and research.