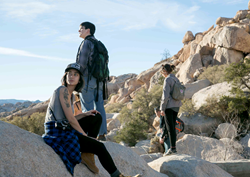 Los Angeles, CA (PRWEB) November 01, 2016
Otis College of Art and Design and Joshua Tree National Park recently launched the Joshua Tree Art Innovation Laboratory (JT Lab), an initiative which will explore ways that artists can contribute to the National Park Service's mission and strengthen the role artists play in the National Park Service (NPS). Moving beyond artists solely as image makers, the initiative enlists artists as "creative thinkers, problem-solvers, and communicators."
A National Endowment for the Arts "Imagine Your Parks" project, JT Lab takes NPS's 2016 Centennial and "Arts Afire" initiative as an opportunity to explore a progressive approach to park management while providing new opportunities for artists. As part of JT Lab, artists and NPS staff will develop innovative programs and projects that contribute to park sites and visitor experiences—both at Joshua Tree National Park and Mojave National Preserve. Additional partners in this initiative include Copper Mountain College, the Mojave Desert Land Trust, and BoxoPROJECTS.
"The JT Lab initiative positions artists and designers as creative partners and problem solvers in service to larger public goals. This expanded role is embedded within the programs of Otis College and we are excited to see this project thrive," said Bruce W. Ferguson, president of Otis College of Art and Design.
JT Lab is led by Rebecca Lowry, a Los Angeles-based artist and lecturer at Otis College. Lowry, whose conceptually driven work has been seen at Grand Canyon National Park, will work closely with senior park staff as an embedded art professional within Joshua Tree.
"Working with the National Park Service, artists have the potential to spark the imaginations of new and more diverse audiences," said Lowry. "By making people aware of the importance and relevance of parks and revealing new perspectives, we will contribute directly to the preservation of these special places."
The project also features a volunteer artist program, led by Joshua Tree-based artist Jenny Kane and an art internship program targeting underserved rural and urban youth, hosted by Copper Mountain College (CMC).
For more information on the project and for a listing of its upcoming public events visit http://www.jtlab.info.
ABOUT OTIS COLLEGE OF ART AND DESIGN
Established in 1918, Otis College of Art and Design offers undergraduate and graduate degrees in a wide variety of visual and applied arts, media, and design. Core programs in liberal arts, business practices, and community-driven projects support the College's mission to prepare diverse students to enrich the world through their creativity, skill, and vision.
ABOUT JOSHUA TREE NATIONAL PARK
Joshua Tree National Park is a 793,000-acre park located two hours southeast of Los Angeles. Two distinct desert ecosystems, the Mojave and the Colorado, come together in this diverse landscape. Dark night skies, a wide variety of plants and animals, a rich cultural history, and surreal geologic features add to the wonder of this vast wilderness in Southern California.
ABOUT NATIONAL ENDOWMENT FOR THE ARTS: IMAGINE YOUR PARKS
The National Endowment For the Arts is partnering with The National Park Service is on a special arts grant initiative that jointly celebrates the 50th anniversary of the NEA in 2015 and the centennial anniversary of the NPS in 2016. The initiative, entitled "Imagine Your Parks," unites the missions of the two agencies to promote and protect the nation's cultural and natural treasures. "Imagine Your Parks"—a national centennial program—is providing grant funding through the NEA Art Works grant category to NPS external partners or organizations that use the arts, in all forms, to connect people with the National Park System and its programs.