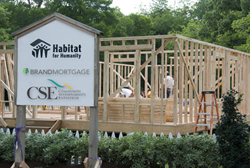 "BrandMortgage and Community Sustainability Enterprise understand and champion the corporate social responsibility story of affordable homeownership and youth leadership development." -Greg Shumate
Lawrenceville, Georgia (PRWEB) November 03, 2016
BrandMortgage, the industry-leading full-service lender offering a suite of mortgage financing options, is proud to announce an upcoming partnership with Community Sustainability Enterprise (CSE) to provide affordable, sustainable home ownership for families in Gwinnett, GA. Spearheaded by Greg Shumate, CEO of BrandMortgage, and Deirdra Cox, President of CSE, the two organizations are proud to partner for a second time on a Habitat for Humanity home build in 2017 to make a difference in the life of a hard-working, single-parent family and the community at large.
BrandMortgage's parent company, BrandBank, has proudly stepped up to sponsor the first Build Day, taking place on November 5, 2016, which will begin the process of providing a home for a well-deserving family. The site will be in Gwinnett county and employees from the bank and athletes from local Meadowcreek High School will team together to provide 15 volunteers for this event.
The second Build Day will take place on November 12. This day is being sponsored by both Credit Plus and McMichael & Gray, with each entity sharing the cost of the build in order to help provide a family with the home of their dreams. Both companies are providing volunteers and are also partnering with Meadowcreek High School athletes in their community service initiatives.  
The final phase of this collaboration will take place over several days in January. Shared by BrandMortgage, McMichael & Gray and the Meadowcreek Athletic Department, these days will consist of furnishing and decorating the new home to prepare for presentation to the lucky family. This phase will be part of an innovative youth leadership program that both BrandMortgage and CSE have built expressly with the athletes of Meadowcreek High School in mind. It will be an essential piece of the community service requirement that itself has become the heart of the program. Meadowcreek Athletic Department volunteers (including football players, staffers and more) will participate in each day.
"BrandMortgage and Community Sustainability Enterprise demonstrate and champion corporate social responsibility as it relates to affordable homeownership and youth leadership development," said Greg Shumate, CEO and Managing Partner of BrandMortgage. "Partnering again with former Atlanta Falcons football great Warrick Dunn and his organization on a 2017 project is another compelling example of these efforts."
Deirdra Cox adds, "A collaborative effort with Warrick Dunn Charities and Habitat for Humanity is an expansion of the BrandMortgage Community Development network of like-minded business professionals. We welcome our inaugural partners, Credit Plus, Randall Brown and McMichael & Gray, Randy McMichael and Katie Fish."
The upcoming home build and corporate partnerships with organizations like Warrick Dunn Charities and Habitat for Humanity, are just a few of the many examples of how seriously BrandMortgage takes its position not only as an industry leader, but as a change agent within the communities in which it operates. Similarly, this project is at the core of Community Sustainability Enterprise's mission and values.
To find out more about the upcoming Build Days, or for more information about BrandMortgage and the wide range of mortgage financing options that it offers, please visit the company's official website.
About the BrandMortgage/CSE Community Development Collaborative
The BrandMortgage/CSE Community Development Collaborative was formed nine years ago from the philanthropic and community development roots of Greg Shumate, CEO of BrandMortgage and Deirdra Cox, President of Community Sustainability Enterprise (CSE). Greg Shumate is a Gwinnett County, GA native, who helps people realize their gifts and passions and puts them to work in their local economies, so they can create a sustainable quality of life for themselves and their families. Greg and Deirdra worked hand in hand to ensure that financial literacy, youth development, workforce development, asset building and affordable homeownership resources were made available to over 10,000 individuals, families, non-profits and public schools in the BrandMortgage footprint over the past four years.  
About BrandMortgage
BrandMortgage is focused on being the best and strongest lender in the Southeast and, while they provide loans in 10 states, the full-service lender has never outgrown their Georgia roots. Offering a wide variety of mortgage finance products, they help each and every client choose the best options to fit their budget and meet their individual needs. BrandMortgage strives to take the guesswork out of the application process and explains all of the options in simple, straightforward language so their clients feel comfortable and secure with their decision. To learn more about BrandMortgage and their broad assortment of mortgage finance products, please visit http://www.brandmortgage.com.
About Community Sustainability Enterprise
Community Sustainability Enterprise is a Georgia 501c3 whose mission is to transform the socio-economic landscape of low income/high potential communities one generation at a time, through impactful public-private partnerships and corporate social responsibility missions that deliver transformational evidence-based programming that promotes self sufficiency, economic sustainability and community pride.
About Gwinnett Habitat for Humanity
Driven by the vision that everyone needs decent and affordable housing, Gwinnett Habitat for Humanity has committed to being a key solution in our community so children and families no longer have to live in unsafe or substandard conditions. Safe, stable and secure housing improves health conditions, children's educational achievements and strengthens community ties. Gwinnett Habitat has provided 131 hard working families with a new or rehabbed home and have served 323 children and their families. To learn more, donate or volunteer, visit http://www.habitatgwinnett.org.