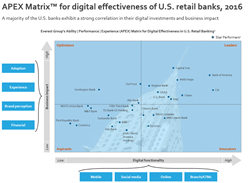 The APEX Matrix reveals what the leading banks are doing from a digital perspective, and what's paying off.
Dallas, TX (PRWEB) November 03, 2016
DALLAS, NOVEMBER 3, 2016 — Banks are aggressively investing in digital technology to boost customer loyalty and gain a competitive advantage. In which technology strategies are they investing, and what is paying off? Everest Group answers these questions in recently published research that identifies the digital banking leaders in the United States and Europe.
"Digital innovation and customer experience is the only way forward for retail banks—it is a matter of do or die," said Jimit Arora, partner at Everest Group. "They need to innovate consistently and add functionalities across the customer touchpoints to offer best-in-class user experience as well as defend their business against neobanks.
"At the same time, retail banks are facing increased pressure to invest across 'run-the-business' initiatives—updating outdated, legacy systems; implementing stronger cybersecurity; observing stringent compliance and reporting requirements; and operating an extensive branch network, just to name a few! This is why retail banks are aggressively investing in digital technology. They must leverage technology quickly and wisely, or they will be left behind."
Using its proprietary Ability | Performance | Experience (APEX) Matrix™, Everest Group has analyzed the digital banking functionalities of 26 large retail banks in the United States and 18 large retail banks in Europe.
According to Everest Group, the current technology priorities for retail banks include:
1. Introducing multiple value-added services across digital banking channels
2. Offering advanced security and authentication functionalities
3. Providing secure, convenient and fast payment solutions to customers
4. Leveraging social media for efficient customer service and marketing
5. Redesigning and creating smaller branches equipped with self-service technologies
"We use the APEX Matrix to assess the extent to which investments by retail banks in these digital functionalities are yielding business results," said Sarah Burnett, vice president at Everest Group. "This assessment is particularly vital to the retail banking industry today, as competitors in a mature industry seek to differentiate themselves among the consumer base by leveraging digital technology. The APEX Matrix reveals what the leading banks are doing from a digital perspective, and what's paying off. These reports also assist senior stakeholders to understand the difference in adoption of digital technologies across different geographies."
The following institutions have been identified by Everest Group as Digital Banking Leaders in their respective geographies:
United States:

Bank of America
Capital One
Chase
Citi
PNC
Regions Bank
USAA
U.S. Bank
Wells Fargo
Europe:

Barclays
BBVA
HSBC Holdings
Lloyds
RBS
Santander
The complete results of this research are published in two reports available at everestgrp.com:
About Everest Group's APEX Matrix™
The APEX Matrix is a first of its kind 'open-source' evaluation of the digital
effectiveness of the largest retail banking operations. The research methodology for the APEX Matrix—designed to spotlight consumer engagement and experience—relies solely on publicly available information and takes into account only those aspects of digital functionality that a customer could evaluate.
The X-axis of the APEX Matrix measures digital functionality across mobility, social, online and branch/ATMs from the vantage point of a consumer. The Y-axis measures the business impact by assessing adoption levels, customer experience scores, brand perception and financial impact. Across the two axes, Everest Group evaluates more than 70 parameters to identify the leaders, innovators, optimizers and aspirants for digital banking capabilities.
About Everest Group
Everest Group is a consulting and research firm focused on strategic IT, business services, and sourcing. We are trusted advisors to senior executives of leading enterprises, providers, and investors. Our firm helps clients improve operational and financial performance through a hands-on process that supports them in making well-informed decisions that deliver high-impact results and achieve sustained value. Our insight and guidance empower clients to improve organizational efficiency, effectiveness, agility and responsiveness. What sets Everest Group apart is the integration of deep sourcing knowledge, problem-solving skills and original research. Details and in-depth content are available at http://www.everestgrp.com.
###
Contact:
Andrea M. Riffle, Everest Group
andrea.riffle@everestgrp.com
Robert Cathey, Cathey Communications
+1-865-386-6118
robert(at)cathey.co