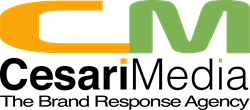 "The launch of our new brand name and logo came from a need to better reflect our tool box"
Seattle, Washington (PRWEB) November 02, 2016
Cesari Direct, a leading DRTV company specializing in long and short form television advertising, today unveiled a new brand name and logo. The new name, Cesari Media, symbolized by the introduction of a new logo, signifies growth and innovation developed from Cesari's 20 year history.
"The launch of our new brand name and logo came from a need to better reflect our tool box," said Rick Cesari, CEO and Founder, Cesari Direct. "We've had great success in the past, especially with long form, and as things have evolved more clients are preferring short form and cross platform advertising. Media is much more than just television, and digital media naturally follows a response model, so we have been successfully integrating Internet and mobile to complement our television campaign strategies."
Cesari Media's COO, Jane Schloth added, "To have good client outcome, our campaign managers continually monitor data to keep results optimized, cost effectively. To do this we've had to develop not only integrated Television and Internet campaigns, but integrated analytics as well." Gail Gessert, CMO, chimed in, "Our logo and name simply no longer reflected all we do. We have a brand response model across all media. Here at Cesari Media, sales drive brand, rather than depending on brand to spur sales. Our past name only reflected DRTV. So keeping our historical name and adding our breadth, we chose Cesari Media."
The new logo preserves our past success by continuing to use the Cesari name, as well as represents our encompassing broader response advertising venues. Our new logo's graphic, representing Cesari Media, CM, shows movement and symbolic outreach. "It's as if hands are reaching out to a swing or race track! We like to think of ourselves as keeping moving and speeding along with the times," smiled Rick Cesari.
About Cesari Media
Founded in 1994, privately-held Cesari Media specializes in brand response television advertising, with companion digital campaigns. Having been the Brand Response agency of record for companies like GoPro, where they reached a billion in sales in just seven years, Cesari Media has shown repeated success in taking a brand from start to stardom. Cesari Media also maximizes big brand in tandem with traditional agencies for their direct sales focus, across TV, Internet, and Mobile. Cesari has helped produce multi-million dollars of success for clients including George Foreman Grill, OxiClean, and Sonicare. With a winning campaign management model, proven client results, state-of-the-art analytics, Cesari Media continues to meet the needs of the times capitalizing on its long history of success.
For more information about Cesari Media, please go to http://www.cesarimedia.com
SOURCE Cesari Media
RELATED LINKS
http://www.cesarimedia.com