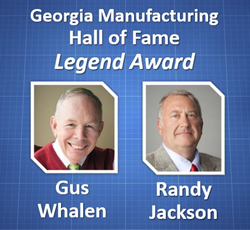 Two great men inducted into the Georgia Manufacturing Hall of Fame.
Atlanta, Georgia (PRWEB) October 31, 2016
Two Georgia manufacturing leaders were honored during the launch of the Georgia Manufacturing Hall of Fame on October 26th at the Georgia Manufacturing Summit.
Janelle Whalen received "The Legend Award" on behalf of her late husband, Mr. Gus Whalen. The Gainesville business leader was the founder of the Featherbone Communiversity, the former CEO of the Warren Featherbone Company, and an author and speaker. The Communiversity is a partnership of local schools and businesses, and is home to the Brenau University Department of Nursing, the Interactive Neighborhood for Kids (INK), Lanier Technical College Manufacturing Development Center, University of Georgia Small Business Development Center, and the Georgia Tech Enterprise Innovation Institute.
Another program founded by Mr. Whalen was "The Masters Series" which honors and recognizes teachers, entrepreneurs, nurses, craftsmen, and public servants in the community for their dedication and excellence. Whalen was a visionary who loved his family and community. He believed that we are all teachers and that we are all students. Featherbone Communiversity Academy was established to connect local high school students with career Masters.
Jamey Jackson received "The Legend Award" on behalf of his late father, Mr. Randy Jackson. For nearly a decade, Jackson was the public face of Kia Motors in Georgia, a $1 billion auto plant that created thousands of jobs and saved a working-class border community from economic ruin. This facility in West Point, Georgia was the first manufacturing site in North America for Kia Motors Corporation, and produces 360,000 units annually. It manufactures the Sorento CUV and the Optima mid-size sedan, two of the brand's top selling models in the U.S.
During his acceptance of "The Legend Award," Jamey Jackson challenged attendees of the Summit to take a stand and do what they can to have a positive impact on the community they serve.
"We have received an overwhelming positive response to the founding of the Georgia Manufacturing Hall of Fame," said Jason Moss Founder and CEO of the Georgia Manufacturing Alliance (GMA). "The annual awards program held in conjunction with the Georgia Manufacturing Summit has several categories designed to highlight the people of manufacturing. We are looking forward to the 2017 awards program, and nominations will be open soon." Added Moss
About the Georgia Manufacturing Alliance
The Georgia Manufacturing Alliance is a professional organization founded in 2008 to support Georgia's manufacturing community. GMA provides monthly plant tours, educational sessions and unique networking opportunities designed to help make profitable business connections for its members. To learn more about the organization, visit http://www.GeorgiaManufacturingAlliance.com