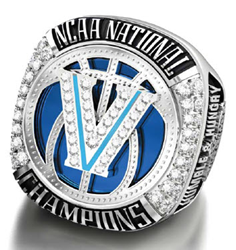 VILLANOVA, Pa. (PRWEB) October 31, 2016
Jostens, the leading provider of high-end custom jewelry for college sports teams, unveiled the NCAA's 2016 men's national Championship Ring on Oct. 28, when the Villanova Wildcats presented the rings to players, coaches and basketball staff during a public ceremony at The Pavilion arena.
The rings commemorate the Wildcats' outstanding 2015-2016 season and celebrate the team's triumphant victory in the men's Final Four championship on April 4.
"These rings will forever be a reminder of the commitment and dedication a group of young men displayed in bringing a great attitude to everything they did," said Jay Wright, Villanova men's head basketball coach. "We're excited for this chance to celebrate our 2016 NCAA National Championship with the Villanova community, and the presentation of our Jostens Championship Ring was a very special honor."
"Jostens is excited to partner with the Wildcats to create a championship ring that celebrates the team's second national victory," said Tom Rysavy, Jostens senior college marketing director. "This one-of-a-kind ring is hand crafted and features a basketball-shaped design, including a caged blue spinel stone with a crest of the Villanova logo on the bezel."
The ring showcases Villanova's season record of 35-5, with one side featuring the championship final score of 77-74 between Villanova and North Carolina, as well as the NCAA National Championship trophy. The other side is customized with the name and position of each player, coach and staff member, and features "2016" in large numbers and the words "Final Four Houston 2016" surrounding the NCAA emblem.
In addition to collaborating with the Wildcats, Jostens has partnered with other Pennsylvania college sports organizations, including Pennsylvania State University, University of Pennsylvania, Temple University, Lehigh University, St. Joseph's University, Kutztown University, East Stroudsburg University, Lafayette College and Misericordia University.
About Jostens
Jostens is a trusted partner in the academic and achievement channel, providing products, programs and services that help its customers celebrate moments that matter. The company's products include yearbooks, publications, jewelry and consumer goods that serve the K-12 educational, college and professional sports segments. Founded in 1897 and based in Minneapolis, Minn., Jostens is a subsidiary of Newell Brands and can be found online at http://www.jostens.com.
About Newell Brands
Newell Brands (NYSE: NWL) is a leading global consumer goods company with a strong portfolio of well-known brands, including Paper Mate®, Sharpie®, Dymo®, EXPO®, Parker®, Elmer's®, Coleman®, Jostens®, Marmot®, Rawlings®, Oster®, Sunbeam®, FoodSaver®, Mr. Coffee®, Rubbermaid Commercial Products®, Graco®, Baby Jogger®, NUK®, Calphalon®, Rubbermaid®, Contigo®, First Alert®, Waddington and Yankee Candle®. For hundreds of millions of consumers, Newell Brands makes life better every day, where they live, learn, work and play.
This press release and additional information about Newell Brands are available on the company's website, http://www.newellbrands.com.