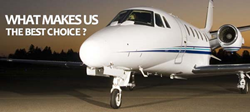 Green BioJet Fuel for Corporate and Celebrity Jets in the US.
Houston, Texas (PRWEB) November 01, 2016
United, Lufthansa and other airlines are already using alternative fuels for commercial flights and Gulfstream is leading the business aviation market using Honeywell Green Jet Fuel. AvStar is also a leader planning biojet fuel distribution in the US for business aviation.
Business-Aviation-and-Climate-Change
"In 2011, a Gulfstream G450 became the first business jet to cross the Atlantic using biofuels," Bowman adds. "The Honeywell‐operated aircraft flew from North America to Europe using a 50/50 blend of Honeywell Green Jet Fuel and petroleum‐based jet fuel. In 2012, we flew our full fleet of demonstration aircraft to the 65th Annual National Business Aviation Association Meeting & Convention on advanced biofuels."
"Monarca is our biojet fuel project in Yucatan Mexico that will produce over 30 million gallons of biojet fuel for Mexico's ASA – Federal Aviation Services and business aviation in the US," Jack Katz, the CEO of Monarca, adds. "North America is our market and our project will produce the most competitively priced biojet fuel for our customers and distributors."
"We are excited to work with AVStar Aviation Services in Houston. They are an innovative company seeing corporate aviation with a new perspective. They are acquiring aviation service companies in key markets to build a service network and consolidate the market, in addition to their Florida and Texas key markets," Katz stated.
Henry A Schulle, EVP AVStar Aviation Services, stated, "We have researched alternative fuels and see biojet fuel as the future for business aviation fuels. Monarca brings a great opportunity to our company to open a new fuel source in corporate aviation. I believe there are many corporations and celebrities who prefer to use green and eco friendly biojet fuels like United Airlines and we want to offer them the fuels." https://youtu.be/HIH4Y0kUzjk
"We see Monarca as a great partnership for us in the corporate aviation market," concluded Schulle.
Contact Information
Jack Katz, CEO - Zphere Works, S. de R.L. de C.V., a Mexican Limited Liability Company - Cerrada Manchester 13, floor 3 - Mexico City, 06600
+52.1.55.20954727
jkatz(at)blacksmithicg(dot)com
Michael Chaplinsky, President – Turf Feeding Systems, Inc. Houston, Texas – USA
COO - Agriculture - Zphere Works
+1 713.849.9040
mc(at)turffeeding(dot)com
http://www.turffeeding.com
Bio:
Mr. Jack Katz is the CEO of Zphere Works, S. de R.L. de C.V headquartered in Mexico City. Mr. Katz has been in the waste to energy business for over 10 years. His background has been focused on integrating government agencies with solutions in waste and environmental issues. He has brought together teams of designs and implementers to structure and install systems that address municipal waste and water quality. Mr. Katz has just launched a municipal waste to energy project for Cancun.
Michael Chaplinsky is the President of Turf Feeding Systems, a world leading company in fertigation, headquartered in Houston, Texas. Mr. Chaplinsky has developed new technologies integrating fertigation, new irrigation technologies and special soil treatments to reduce irrigation water up to 50%, reduce fertilizer and chemicals 60% while increasing crop production as much as 50%. Mr. Chaplinsky works and speaks at many agriculture conferences worldwide. He is a world expert in Soil Restoration, Water Efficiency and Sodium Issues in water and soil. He developed a new sustainable agriculture program that restores poor soil and produces higher crop production, while reducing water, fertilizer and chemicals. He states, "The world population has passed 7 billion and will pass 9 billion by 2050; however tillable productive farmland in the world is diminishing. My mission is to restore damaged farmland not bulldoze native forests to increase farmland.
AvStar Aviation Services, Inc.
3707 Westcenter Drive, Suite 200
Houston, Texas 77042
Telephone: 713-259-6745