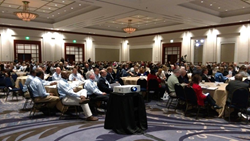 Full house at the 2016 Georgia Manufacturing Summit.
Atlanta, Georgia (PRWEB) October 31, 2016
"The 2016 Georgia Manufacturing Summit was a HUGE success. On October 26th, over 500 industry professionals gathered to discuss the issues most important to Georgia manufacturers," said Jason Moss, Founder and CEO of the Georgia Manufacturing Alliance (GMA). Designed to support Georgia's manufacturing community, the Summit brought together industry leaders to network with their peers as they shared their insights and recommendations.
"We received rave reviews on the presentations from our keynote speakers at this year's conference," said Moss, "Kathleen Edge, Executive Vice President of Human Resources for Southwire Company LLC, and Steve Hillis, President of Beaulieu Commercial & Aqua Hospitality Business."
In addition to the keynote presentations, the 2016 Summit had a power-packed agenda, including several break-out training sessions addressing the challenges faced by manufacturers in Georgia.
The topics included "Manufacturing a Better Bottom Line," designed to provide valuable information to CEO, CFO, and HR leaders. "Trends to Track in Supply Chain" was designed for leaders in purchasing, engineering, operations and logistics departments. A full panel of speakers provided details about the German-style American Apprenticeship Program recently launched in Coweta County to address workforce development. Sales and marketing professionals were given "Seven Secrets to More Successful Selling." Leaders also attended "Is This Product Really GREEN?" and "Safety in Manufacturing" sessions.
Two Georgia manufacturing leaders were honored in the launch of the Georgia Manufacturing Hall of Fame during the Summit. Janelle Whalen received "The Legend Award" on behalf of her late husband, Mr. Gus Whalen, and Jamey Jackson received "The Legend Award" on behalf of his late father, Mr. Randy Jackson.
"We have received an overwhelming positive response to the founding of the Georgia Manufacturing Hall of Fame," said Moss. "The annual awards program held in conjunction with the Georgia Manufacturing Summit has several categories designed to highlight the people of manufacturing. We are looking forward to the 2017 awards program, and nominations will be open soon."
About the Georgia Manufacturing Alliance
The Georgia Manufacturing Alliance is a professional organization founded in 2008 to support Georgia's manufacturing community. GMA provides monthly plant tours, educational sessions and unique networking opportunities designed to help make profitable business connections for its members. To learn more about the organization, visit http://www.GeorgiaManufacturingAlliance.com