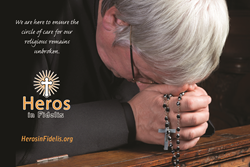 "It's time to help the priests and the nuns who have baptized us, taught us, and guided us to be the Catholics that we are today."
Orlando, Florida (PRWEB) November 02, 2016
Heros in Fidelis is Latin for "hero of the faithful." The Heros in Fidelis foundation will serve to honor those who have given so much to the Catholic community, our diocesan priests and nuns have dedicated their lives to serving and guiding the Catholic lay community. Seminarians, or the priests who are still in training, also dedicate their lives to the Catholic church. Heros in Fidelis will seek to help all of the aforementioned financially and though( acts of mercy) assistance of their day to day lives
Many priests and nuns are joining the ranks of the retired in large numbers. According to the United States Conference of Bishops, by the year 2030, the unfunded retirement liability will exceed $9 billion. Many of the retired religious will not retire well; because of low wages, social security will only pay a limited amount per month( $600 per month). Many dioceses are there to assist in the care of their retired workers, but some cannot. Heros in Fidelis was created to become a lay Catholic organization that will fill in the gaps that retirement pay cannot fill, with an emphasis on preserving the dignity of those that it helps. Examples of assistance include medical copays, medical equipment, transportation to doctor appointments or grocery stores, or cooking meals the needs of the retired diocesan priests, nuns and seminarians are varied by the individual
The Foundation will be managed by local members of Knights of Columbus, the Catholic lay community and Faith Based Revenue corporation, a non-profit, 501 c(3) organization. Funding will also come from Catholic Flowers.org, an online full-service florist. For more information, visit http://herosinfidelis.org/catholic-flowers/.
For more information, please contact Kevin Harp at kevin(at)herosinfidelis(dot)org, or Joe Winter, Knights of Columbus Assembly #3202 at: joewinter14132(at)gmail(dot)com.
100% of all donations to "Heros in Fidelis" will be used for direct help to this Catholic cause.