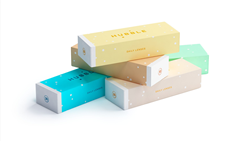 America's first direct-to-consumer contact lens brand, dedicated to making it affordable and convenient to purchase high-quality contact lenses for a fair price
New York, NY (PRWEB) November 02, 2016
Hubble launched today as America's first direct-to-consumer contact lens brand, dedicated to making it affordable and convenient to purchase high-quality contact lenses for a fair price. Hubble accomplishes this by cutting out markups from intermediaries to sell its own brand of lenses directly to consumers. This means that lenses generally cost less than half the price of competitors.
Through a subscription, Hubble is able to offer consumers affordable, high-quality, FDA approved contact lenses with minimal hassle and maximum convenience. The subscription service means that wearers will never run out of contacts again―a more convenient, healthier approach to avoid over-wearing.
As a further indicator that the business model is resonating, Hubble has raised $7.2M in funding from investors including Founders Fund's early stage investment vehicle, FF Angel; Greycroft Partners; Wildcat Capital Management (the family office of TPG Capital Founder, David Bonderman); Two River; Uber Early Architect and Founding CTO, Oscar Salazar; and Brian Levy, the former Chief Medical Officer of Bausch and Lomb.
In mid-2015, Ben Cogan, now Co-founder and Co-CEO of Hubble, was down to his last few pairs of contact lenses. He realized he faced a dilemma: either pay a fortune for more lenses or over-wear his remaining lenses in order to save money. He knew the latter wasn't a safe or healthy option for his eyes, so he began thinking about a solution to his problem. "I knew there had to be a better, more efficient way to get lenses, and I knew I wasn't facing this problem on my own," said Cogan.
His curiosity and research uncovered the reality that four manufacturers control 95% of the contact lens industry, and with the absence of competition, they had been effective at keeping prices very high. There are more than 40 million contact lens wearers in the United States and retailers are selling lenses to them at a 15-100x mark-up from manufacturing costs. Because of this steep pricing structure, many contact lens wearers are forced to overspend or over-wear their lenses.
"When we looked at the market and discovered that there were no direct-to-consumer prescription services for contact lenses in the U.S, a light bulb went off," said Cogan. "Much of the profit in this industry comes from intermediary markups, and not only is that hurting consumers' pockets, ultimately, it's really unhealthy for their eyes too. When people are forced to pay exorbitant markups on a product intended to benefit their vision, many of them actually end up sacrificing their eye health by over-wearing expensive lenses so that they don't have to regularly purchase more."
As a former Senior Customer Insights Associate at Harry's (the direct-to-consumer, subscription-based razor brand), Cogan understood the direct-to-consumer model and knew that in order to get the customer base Hubble required, they needed an affordable product and the convenience that comes along with a subscription service. As he began to develop the concept for Hubble, he quickly realized that he couldn't do it on his own, so he turned to his friend and future Co-founder and Co-CEO of Hubble, Jesse Horwitz.
"We did several months of diligence work and found an FDA-approved manufacturer where we could get private label lenses. With this new partner, we knew that we could make the trip from manufacturer to consumer much shorter and much more affordable," noted Horwitz.
Horwitz (who at the time, was on the investment team for Columbia University's endowment, specialized in fundraising, business development and regulatory guidelines) loved the concept for Hubble. After determining that there was a strong consumer demand for a new brand of lenses, he and Cogan began looking for investors who could help bring their vision to life.
"We presented our findings and plans for Hubble to a respected group of investors and landed on a fantastic group who have brought invaluable expertise in both the e-commerce and healthcare spaces," said Horwitz.
Hubble's contact lenses are available now at http://www.hubblecontacts.com for $264/year for an annual subscription, or $30/month for a monthly subscription. Every new customer gets their first two weeks of lenses free ($3 S/H), and can cancel anytime, including during the free period.
##
Press Contact
David Shulman
LaForce
Dshulman(at)laforce(dot)nyc
(646) 374-0842