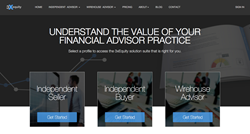 We are thrilled to be chosen as a preferred partner with Live Oak Bank for practice valuations.
Kirkland, WA (PRWEB) November 08, 2016
3xEquity announces that they have partnered with Live Oak Bank to offer customers of both companies exciting new services. Through this strategic partnership, 3xEquity is now an approved financial practice valuation provider for Live Oak Bank.
3xEquity is the premier online resource for practice valuations and firm transition opportunities in the financial services industry. It has an easy-to-use website that offers real-time data analysis tools, which includes a real-time Deal Terms calculator that enables financial advisors to make crucial business decisions for their practice. Whether advisors are looking to buy or sell a financial practice, establish partnerships, or evaluate other broker dealers, 3xEquity's suite of solutions can help. 3xEquity principles leverage their decades of experience in valuation platforms to enable the firm to consistently forge value-added relationships in valuation, practice management, and financing.
Jeff Crosby, the founder of 3xEquity says, "We are thrilled to be chosen as a preferred partner with Live Oak Bank for practice valuations. Live Oak Bank is considered one of the most adept small business lenders in the banking industry. The 3xEquity team looks forward to working with them to further the success of financial advisors."
Live Oak Bank specializes in making it easy for financial advisors (FAs) to get loans to build and enhance the value of their financial practices. They have an experienced team of advisors and consultants that help FAs throughout the loan process and ensure FAs get what is best for their business. Live Oak Bank offers competitive rates with no financial covenants or prepayment penalties; the terms of loans can be for 7-10 years for businesses, and up to 25 years for real estate. With Live Oak Bank, financial advisors can get an approval in as few as 10 business days and get funding within 40 days.
3xEquity members can take full advantage of this partnership when they complete a financial valuation by using their annual subscription service.