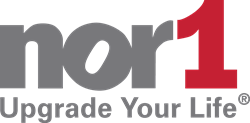 Silicon Valley, CA (PRWEB) November 01, 2016
With a modernized and optimized interface, improved functionality and built-in access to help and training, the new management portal assures hoteliers have the ability to strategically and intelligently manage every aspect of upsell revenue optimization.
"For 2016, our data scientists have determined guest demand for upgraded inventory to be greater than $25 per booking for full service hotels. We designed and have built the Nor1 Universal Upsell Management Portal to allow hoteliers the ability to both capture this demand and to increase it," said Jason Bryant, Nor1's Founder and CEO. "The Nor1 vision is that every upsell offer, whether at booking, via a mobile offer prior to arrival or via the check-in process, should all be managed by the same intelligence and delivery platform to best optimize revenue."
All Nor1 Merchandising Platform products; eStandby Upgrade®, Confirmed Upgrade, CheckIn Merchandising™, eReach™ and the upsell intelligence engine PRiME® are coordinated into this powerful revenue management tool. Its responsive design also allows their hotel partners to access and conveniently manage all of their Nor1 products from anywhere, at any time and from any computer, tablet or mobile device with an internet connection.
Whether you need to manage offer content, business rules, or pricing & merchandising intelligence for any upsell offer across the reservation life-cycle, Nor1's Universal Upsell Management Portal provides a true "one-stop shop" for all upsell administration.
About Nor1, Inc.
Nor1, Inc. is the leader in hospitality merchandising technology. Headquartered in Silicon Valley, Nor1 provides data-driven pricing and merchandising solutions to maximize revenues for hotels and resorts worldwide such as Hilton, IHG, Carlson Rezidor, Accor, and Wyndham. Nor1′s patented, dynamic decision intelligence engine PRiME®, powers Nor1′s Merchandising Platform including its signature eStandby Upgrade®, Confirmed Upgrade, CheckIn Merchandising™, and eReach™ solutions.
Nor1 is creating the fusion between technology and guest experience. It's that combination of expertise and skill that have set Nor1 apart and continues to attract technology's most distinguished investors such as Concur Technologies, Goldman Sachs and Accel Partners. For more information, please visit http://www.nor1.com.