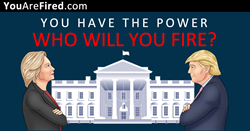 YouAreFired.com, Donald Trump, Hillary Clinton...Who Will You Fire?
Los Angeles, CA (PRWEB) November 01, 2016
YouAreFired.com is hosting a unique contest: Voters can visit the site and fire Hillary Clinton or Donald Trump!
As this election season becomes ever more intense, what would be better than the satisfaction of firing the opposition's candidate?
Voting is free and voters receive a certificate at the end of the process. YouAreFired.com, through social media, allows users to engage with their friends and family in a game to help defeat the opposition.
Never give up! Never surrender!
"Donald Trump! You Are Fired!" proclaims one YouAreFired.com user as she clicks the button.
"Hillary Clinton! You Are Fired!" blurts out another voter as he does the same.
Thousands of voters have already cast their votes at the site. Who's winning? Too early to say. Passions are running high. Both candidates have been at the top of the "Who's getting fired?" list.
This election season is unlike any other. From billion dollar tax schemes and steamy accusation and revelations to criminal investigations involving the FBI.
Just when voters think they have a sense of who their candidates might be they get hit with another curve ball. These days it isn't uncommon to hear from people who are stressed out and tuned out due to the 2016 elections.
YouAreFired.com brings a little fun to the 2016 elections by engaging in the fantasy of firing the candidate causing a voter such stress. In many ways, it's therapeutic.
Visiting YouAreFired.com to cast a vote to fire a candidate is simple and oh, so fulfilling.