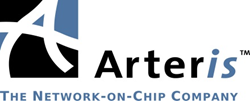 "Toshiba's choice of Arteris Ncore IP is proof that our approach to heterogeneous cache coherency brings value to the development of complex automotive SoCs," said K. Charles Janac, President and CEO of Arteris.
CAMPBELL, Calif. (PRWEB) November 01, 2016
Arteris Inc., the innovative supplier of silicon-proven commercial system-on-chip (SoC) interconnect IP, today announced that Toshiba has licensed Arteris Ncore Cache Coherent Interconnect IP for use in its image recognition processors for ADAS applications.
Toshiba's image recognition processors are highly integrated systems, with many processing engines and image processing accelerators working in parallel. The Toshiba design team chose Ncore cache coherent interconnect IP because of its unparalleled configurability, allowing the team to create a highly optimized cache coherent system that maximizes performance while minimizing die area and power consumption. In addition, the use of the Arteris FlexNoC Resilience Package allowed the Toshiba design team to create a novel hardware architecture that maximizes SoC functional safety at a minimum cost to die area.
"In evaluating cache coherent interconnects, we found that Arteris Ncore was the interconnect that provided us with the flexibility to fully optimize our system while also providing the data protection features we require to meet the highest possible ISO 26262 requirements," said Nobuaki Otsuka, Senior Manager of Mixed Signal IC Design Department at Toshiba. "Arteris Ncore IP is a key component of our image recognition processor architecture."
"Toshiba's choice of Arteris Ncore IP is proof that our approach to heterogeneous cache coherency brings value to the development of complex automotive SoCs," said K. Charles Janac, President and CEO of Arteris. "We are excited to support Toshiba as they create an ADAS platform optimized to meet not only stringent near real time performance requirements but also the highest ISO 26262 automotive safety integrity levels."
About Arteris
Arteris, Inc. provides system-on-chip (SoC) interconnect IP and tools to accelerate SoC semiconductor assembly for a wide range of applications. Rapid semiconductor designer adoption by customers such as Samsung, Huawei / HiSilicon, Mobileye, Altera, and Texas Instruments has resulted in Arteris being the only semiconductor IP company to be ranked in the Inc. 500 and Deloitte Technology Fast 500 lists in 2012 and 2013. Customer results obtained by using the Arteris product line include lower power, higher performance, more efficient design reuse and faster SoC development, leading to lower development and production costs. More information can be found at http://www.arteris.com.
Arteris, FlexNoC and the Arteris logo are trademarks of Arteris. All other product or service names are the property of their respective owners.
###