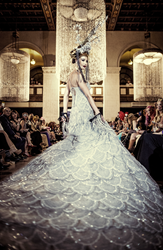 (PRWEB) November 01, 2016
The SUE WONG runway included celebrity guest models Eugenia Kuzmina and Ava Capra of America's Next Top Model, who electrified the audience, along with 18 models--articulating the message of allure, timeless glamour and feminine beauty. The mystique of The Goddess is a mythological aspect synonymous to the SUE WONG signature.
Beautiful Headdresses by Maritzia Regalado for Atzi Designs; fashion constructions and accessories by Michelle Thomas for Aunt Funky's Closet informed the SUE WONG runway with an artful edginess. The Vintage to Modern exquisite statement jewelry of PK BIJOUX completed the fabulous SUE WONG look. Sue Wong takes her signature bead-work, embroidery and hand-wrought couture techniques to unprecedented heights, unveiling an astonishing fashion canvas weaving Classic-romanticism juxtaposed with Avant-Garde edginess into riveting beauty. SUE WONG is the embodiment of Fashion, celebrating every woman – from exhilarating cutting edge to classic romantic elegance.
ABOUT SUE WONG
Los Angeles designer Sue Wong is known for dazzling fashionistas with her couture techniques and glamorous signature and elegance of iconic bygone eras with a modern sensibility to create timeless works of art. Distinguished by the impeccable quality of traditional couture dress making, her designs are steeped in romance and mystery while being thoroughly modern and accessible to women everywhere. Sue continues to forge new ground in defining fashion that transcends generations and boundaries even as she creates masterpieces of passion and desire expressed through inimitable style. She has dressed countless celebrities including Anne Hathaway, Jessica Biel, Minnie Driver and Taylor Swift.
In addition to Fashion, iconic fashion designer Sue Wong now expands her SUE WONG Design Universe--a vortex of creativity featuring a unique signature which is now diversifying into the arenas of Home, Lifestyle, Architecture and Interiors. SUE WONG Boutique Hotels as well as Designer Homes are in the near future awaiting manifestation. SUE WONG Interior Designs, unlike any other, are multi-dimensional, living experiential Temples of Art, promoting transformation and self-healing. To comprehend SUE WONG Designs celebrating the Art of Living, is to embark on a journey accessing a portal into the renowned designer's professional acumen, awakening a magical experience of haute style, glamour, and alchemy.
Licensing Agent: Mark Matheny
Mark(at)retailmarketingsolutions(dot)net
310-990-6959
Real Estate Licensing Agent: Anolan
Dragitsch (323) 320-0077
anolan(at)luxeworldtv(dot)com
http://www.suewong.com
Facebook: http://www.Facebook.com/SueWongFashionPage
Instagram: @SueWongFashion
Twitter: @SueWongFashion