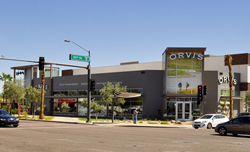 Sunderland, VT (PRWEB) November 01, 2016
The Orvis Phoenix retail store will celebrate its Grand Opening November 4 – 6 at 2011 East Camelback Road. The store is relocating from its previous Scottsdale address, and customers will find all the same staff on hand to meet their needs. As part of its commitment to protecting the environment, Orvis will donate a portion of all proceeds from Grand Opening Weekend sales to the White Mountains Lakes Foundation and the Zane Grey chapter of Trout Unlimited.
Throughout the weekend customers can enter a drawing for a $500 Orvis Gift Card, and receive a complimentary reusable Orvis Tote Bag while supplies last. On Saturday guests will enjoy free refreshments catered by Chef Michael DeMaria from 11 am to 2 pm. The Sonoran Dogs will provide live music from noon to 3 pm. Commemorative Orvis Phoenix Pint Glasses will be distributed while supplies last.
While Orvis has enjoyed great success in Scottsdale, relocating to Phoenix represents an opportunity to be closer to the Central Business District.
"This is a much more convenient location for a large concentration of our customers," said Orvis' Director of Real Estate Jason Williams. "Orvis fans will find the new store to be a more contemporary design, with high ceilings, large format imagery, and the kind of natural building materials that appeal to our customers' love of the outdoors. We greatly look forward to sharing this beautiful new space with our new neighbors and old friends."
About The Orvis Company:
Founded in 1856, Orvis pioneered the mail order industry in the United States, operates more than 80 retail stores in the U.S and the U.K., including its Flagship store in Manchester, VT; and maintains a network of over 400 dealers worldwide. The oldest continuously operating catalog company in the country, Orvis is the premier outfitter of outdoor adventures. A leading corporate steward for the environment, Orvis contributes 5% of its pre-tax profits to protecting nature. Learn more at http://www.orvis.com.