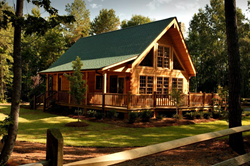 America's largest designer and manufacturer of log homes
Biloxi, MS (PRWEB) November 02, 2016
Southland Log Homes, the leading designer and manufacturer of log homes in the United States, announced today the opening of a new model log home and sales office near Biloxi, MS. The new Southland log home model is located directly off of I-10 via exit 57 in Ocean Springs, MS.
"Southland Log Homes are continuing to gain popularity nationwide as more homeowners learn about the natural beauty, versatility of design, and sustainability of our log cabin homes." said Ken Sekley, Southland's president and CEO. "We are excited to open this new model home location so that we can better serve the Gulf Coast markets and continue to help people's log home dreams come true."
The model home will showcase the Rockbridge plan, featuring an expansive front porch and soaring great room. The Rockbridge is just one of Southland's library of hundreds of log home plans, all of which can be customized at no additional cost. To view these plans and get more information about Southland Log Homes and its locations visit our website.
Regular business hours for the model home and sales office will be weekdays 9am - 6pm, Saturdays 9am – 4pm, and it will be closed on Sundays. It will be staffed by log home experts who can provide people interested in building a log home with information on log cabin kits, log cabin plans, log home builders, financing options, and available land anywhere in the United States.
About Southland Log Homes:
Headquartered in Columbia, S.C., Southland Log Homes was founded in 1978 and is the largest log home company in the United States. Southland has more than 350 home designs and has helped more than 30,000 customers build their custom dream log home. The company operates model home sales offices and has authorized Southland dealers located throughout the United States, Europe, and Asia. Model homes are located in Atlanta, GA; Baton Rouge, LA; Birmingham, AL; Chalmers, IN; Charlotte, NC; Christiansburg, VA; Columbia, SC; Dallas, TX; Fredericksburg, VA; Greensboro, NC; Greenville, SC; Houston, TX; Kansas City, MO; Lake City, FL; Louisville, KY; Macon, GA; Memphis, TN; Nashville, TN; Springfield, MA; and San Antonio, TX. For more information about Southland Log Homes, call 800-641-4754 or visit http://www.SouthlandLogHomes.com.