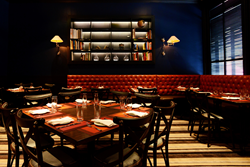 New York, NY (PRWEB) November 02, 2016
Andres Escobar, Escobar Design by Lemay, and David Burke, creative masters in their respective realms, have completed their first restaurant collaboration with Tavern62 by David Burke, which opened in early October 2016 to immediate acclaim. Located in a 3,265-square-foot space spanning the first two floors of a turn-of-the-century townhouse at 135 East 62nd Street, between Park and Lexington Avenues. Designed as a nod to old New York refinement, Tavern62 by David Burke is a paean to such fine-dining taverns as 21 Club, Keens Steak House, and erstwhile bastion of Wall Street camaraderie, Delmonico's. But while the traditional warm-hued background, this time with a burnt orange twist, and dark wood furnishings are tavern standards, an unmistakably contemporary design context is also evident throughout the space, as depicted by such whimsical accents as bowler-shaped sconces above the red leather banquettes in the lounge and locally-themed artwork, including pieces from Chef Burke's personal collection, such as a vintage Bugatti race model hanging over the bar.
"David and I were instantly in synch with our ideas for re-interpreting the original space," points out Mr. Escobar. "From light-hearted sculptures and fixtures to an upscale, classic dining environment in the main room, we have created a destination for the neighborhood, surrounding office community, shoppers and tourists alike."
Divided into four distinctly designed dining experiences, there is a traditionally styled lounge on the first floor with both a stylish wood bar and banquette seating, but with a surprising host of characters in sculpture, including a scholarly Victorian Humpty Dumpty bronze reading a book atop the bar. The second-floor opens to a landing with a combination preparation area and dessert counter. There is also a wine closet and a private dining alcove at the head of the stairs clad in back-lit bricks composed of Pink Himalayan sea salt – a signature David Burke motif -- with a black-and-white tile floor punctuated by a variety of design accents. At the front of this level is the sophisticated main dining room, notable for its mellow ambiance, soft lighting, well-spaced tables and chairs with rich navy upholstery, and contemporary artwork. In the back of the second level is a library-themed room that may be partitioned for private events, featuring both banquettes and long rows of table seating for up to 46 people. Moreover, behind this section will be a separate, glass-enclosed solarium for al fresco dining when the weather is clement.
Tavern62 by David Burke represents the newest offering from ESquared Hospitality, and the group's first original concept with Chef Burke. The restaurant offers lunch and dinner service seven days a week, as well as weekend brunches. More information about Tavern62 by David Burke is available at http://www.tavern62.com.
About Escobar Design by Lemay
With projects in New York, Miami, London, Paris, Montreal, Geneva and the Seychelles, Escobar Design by Lemay has a strong reputation for the design of luxury residences, high-end hotel projects, retail and office interiors, restaurants and airport facilities. In December 2015, Escobar joined leading international design firm Lemay, ranked 79 in a list of 100 firms by World Architecture 100 in 2016. Prior to merging with Lemay, Escobar headed his own international design firm, Escobar & Associates, which he founded in 1989. He holds memberships in the following organizations: National Council for Interior Design Qualifications (NCIDQ); American Society of Interior Designer (ASID); American Institute of Architects (AIA); Interior Designers of Canada (IDC); Association of Registered Interior Designer of Ontario (ARIDO); Association of Professional Interior Designers of Québec (APDIQ).
About Lemay
Named one of the top 100 architecture firms in the world in 2015 by Building Design magazine, Lemay has recently emerged as a major national and international player with a series of stunning and award-winning projects. The firm has also embarked on an audacious growth strategy by acquiring part of IBI Group's Canadian, Chinese and Caribbean activities in 2014. Lemay's signature approach has been to leverage its creativity and integrated design capacity to generate innovative, sustainable and inspiring solutions that propel its clients' business while enhancing our collective quality of life.
About Chef David Burke
A graduate of the Culinary Institute of America, Chef David Burke's 25-year career is decorated with honors that pay homage to his respected culinary skill, creative whimsy, and philanthropic efforts. From receiving the coveted Meilleurs Ouvriers de France Diplome d'Honneur during his time in France, to being inducted into the Who's Who of Food & Beverage in America by the James Beard Foundation in May 2009, David Burke is continuously recognized as one of the leaders in the restaurant industry. Burke has received critical-acclaim from both local and national press, in addition to creating a strong television presence – most notably including appearances on the second and fifth seasons of Bravo's "Top Chef Masters." In Fall 2015, David Burke joined ESquared Hospitality to work as a culinary consultant on existing ESquared properties and to forge ahead with new and innovative concepts to grow the hospitality group into 2016. In September 2016, David Burke and ESquared Hospitality opened BLT Prime by David Burke in the Trump International Hotel in Washington D.C.
About ESquared Hospitality
ESquared Hospitality is an international restaurant and hospitality group. Built on a commitment to "Exceeding Expectations" with extraordinary food and excellent customer service, ESquared Hospitality has grown into a diversified group of restaurant concepts, from the flagship BLT Steak New York which opened in 2004 to more than 20 restaurants on two continents. ESquared Hospitality properties include the BLT restaurants, comprised of BLT Steak in New York, NY (2004), Washington, DC (2006), San Juan, PR (2006), White Plains, NY (2007), Atlanta, GA (2009), Hong Kong (2009), Charlotte, NC (2009), Waikiki, HI (2009), Seoul, South Korea (2014), Roppongi, Tokyo (2014), Las Vegas, NV (2014), Ginza, Tokyo (2015), and Aruba (2015); BLT Burger in Hong Kong (2009); BLT Prime in New York, NY (2005) and at the Trump National Doral Miami, FL (2014); BLT Market in Waikiki, HI (2016). ESquared Hospitality also operates two Italian concepts: Casa Nonna in New York, NY (2011), which became the official pizza vendor of Madison Square Garden (2013) and Radio City Music Hall (2015), and The Florentine in Chicago, IL (2010); as well as Horchata De Nueva York (2014), The Wayfarer (2014), and vegan fast-casual concept by CHLOE. with two locations in New York, NY (2015/2016), Los Angeles, CA (2016), and standalone bakery, Sweets by CHLOE. (2016). In September 2015, acclaimed Chef David Burke joined E2 Hospitality as a culinary partner to open BLT Prime by David Burke in Washington DC (2016) and Tavern 62 by David Burke (2016).