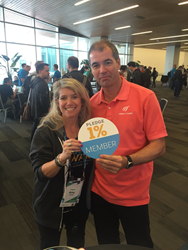 The pledging process was simple, and it brings a level of structure to Clearvision's charity action while helping us to donate funds we raise directly to charity.
Southampton, UK (PRWEB UK) 2 November 2016
Launched in December 2014, Pledge 1% is a corporate philanthropy movement. Its goal is to encourage individuals and companies to pledge 1% of equity, product, and employee time for communities. Founding companies Atlassian, Salesforce, Rally, and Tides have all experienced first hand how "pledging a small portion of future success today can have an enormous impact tomorrow", and Pledge 1% is turning that success into a global movement.
Over 1,000 companies from 30 countries have joined the movement, with Clearvision the latest to pledge 1%. In doing so, Clearvision brings an added level of structure to the company's ongoing charitable fundraising efforts, which include raising over $1700 for The David Sheldrick Wildlife Trust in three days at the recent Atlassian Summit in San Jose.
As Platinum Enterprise Atlassian Experts, Clearvision has a close relationship with Atlassian. Having seen up close the impact of the Pledge 1% movement, joining Atlassian in dedicating resources to helping the community was an easy decision.
As well as fundraising for The David Sheldrick Wildlife Trust, a charity dedicated to the protection and preservation of elephants in Kenya and its wilderness, Clearvision's previous charitable efforts focused on collaborative team activities, from taking on the 'Tough Mudder' obstacle challenge to cake sales and prize draws. These team fundraisers have all been raising money for Clearvision's chosen charity for 2016-2017. Voted on by staff, Clearvision's current charity is Dreamflight, a UK charity that changes young lives through taking children with a serious illness or disability on the holiday of a lifetime to Orlando, Florida.
Pledge 1% gives Clearvision the opportunity to officially recognize the corporate philanthropic efforts of its staff.
"Signing up was easy," said Clearvision CEO Gerald Tombs of the pledging process. "It was a simple process, and it brings a level of structure to Clearvision's charity action while helping us to donate funds we raise directly to charity.
"I'd strongly encourage other organizations to pledge 1%. In fact, in my role as a Pledge 1% Ambassador, I'll be working with companies similar to ourselves, who are often already making commitments to charity but don't currently have a framework to support them," he added.
With the help of Ambassadors like Gerald Tombs and Clearvision, Pledge 1% is currently running a Pledge it Forward campaign. Its aim is to increase its membership by 25% to over 1,250 members by the end of November, to continue its transformational impact on communities around the world.
For more information on Pledge 1% and how to get involved, visit: http://pledge1percent.org/
Contact Clearvision and Gerald Tombs at enquiries(at)clearvision-cm(dot)com.
For more on Clearvision's charity work, see: https://www.clearvision-cm.com/clearvision-charity