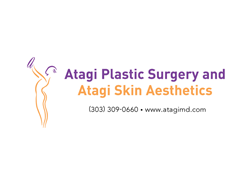 Lone Tree, CO (PRWEB) November 03, 2016
Atagi Plastic Surgery and Skin Aesthetics is giving their patients something to smile about with the addition of Volbella® lip filler treatments to their list of services. They are excited to help their Denver area patients smooth out facial lines and achieve plump lips without implants, surgery, or downtime.
FDA-approved Volbella is ideal for patients who have naturally thin lips, as well as those who feel that their lips have thinned out with age. While results are not permanent, they are long-lasting, and treatments take no more than thirty minutes.
Using a small needle, a few strategic injections are made in the area around the mouth. Volbella is formulated with a smooth gel that helps to maintain the natural feel and smooth consistency of the lips. It also contains lidocaine, a light anesthetic that allows Atagi's expert staff to ensure the maximum level of comfort for their patients.
Atagi Plastic Surgery has been administering injectable treatments and performing lip enhancements for years, and they are proud to add another non-surgical option to their wide array of services.
About Atagi Plastic Surgery and Skin Aesthetics
Atagi Plastic Surgery and Skin Aesthetics is known throughout the Denver metropolitan area and beyond for stellar service from a highly skilled and experienced team. Atagi Plastic Surgery and Skin Aesthetics is proud of the way its patients refer to both the quality of work and the compassion of the staff.
One of only a handful of board-certified, female plastic surgeons in Colorado, Dr. Tanya Atagi has built her practice based on a combined passion for medicine and the arts—providing a unique, yet ideal, set of experiences for a plastic surgeon working with patients to look and feel their best.
The Denver office, located at Sky Ridge Hospital, offers a serene, spa-like atmosphere in which to pursue plastic surgery or skincare services. In addition to Sky Ridge, Dr. Atagi is credentialed to perform a wide variety of breast surgery, body contouring, hormone treatment, and facial enhancement procedures at Rose Medical Center.
To learn more about the team and the services offered at Atagi Plastic Surgery and Skin Aesthetics, please call 303.872.5103 for a consultation.