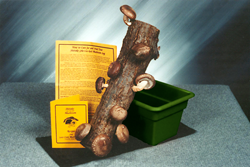 Shiitake logs grow their best, biggest mushrooms now, in the fall, their natural fruiting season. Why wait until cold December to gift yourself or your friends?
Perkins, OK (PRWEB) November 01, 2016
Shiitake mushrooms have been called "The workhorse of gourmet mushrooms" and "The Healing Mushroom," "Chef's #1 mushroom choice," and "A staple of vegetarian diets." DIY shiitake log kits started now in their natural season can bring years of growing fun and good eating.
According to Dr. Sandra Williams, aka The Mushroom Lady and Shiitake Mama, "Fall is a great time to start your own logs growing and spark your holiday meals with your own fresh, organic, and tasty shiitakes. Logs grow their best, biggest mushrooms in the spring and fall, their natural fruiting seasons. Why wait until Christmas to gift yourself or your friends?"
Shiitake Mama hails from Lost Creek Mushroom Farm in Oklahoma, where she and her husband Doug have been raising shiitakes since the 1980s. "We had so much fun and such wonderful mushrooms, we wanted to share the whole log-growing experience, not just sell our mushrooms."
Lost Creek Mushroom Farm gives their customers a range of kit sizes and prices, shipping included: $20 for a 6-inch Baby 'Shroomie, $33.30 for the 10-inch Shiitake Mama, to the Best Buy, $90 for two 14-inch Shiitake Tree in a Tray Kits shipped to the same address. Logs will grow shiitakes every two months for 3-4 years or more. They grow year-round indoors like a plant, and outdoors in shade during the spring and fall. Kits include a ready-to-fruit hardwood log, such as oak and gum; easy picture instructions and detailed instructions, and a recipe booklet. (See how they do it here.) Logs over 9 inches are guaranteed to grow shiitakes.
"Kits with two logs, the Shiitake Ma & Pa and the Best Buy, grow mushrooms every month by alternating the producing log," Sandra said. "When they're fruited together, they produce even more mushrooms because of a pheromone interaction."
Shiitakes are high in protein, low in fat, contain the essential amino acids, and are an excellent way to increase the protein content of a dish. They stimulate and strengthen the immune system. "I slice or chunk them, sauté them in butter and olive oil with salt, pepper and garlic salt, and mix them with everything from vegetable dishes to stews steaks and spaghetti. Log-grown shiitakes are really meaty, have a pleasing texture, are full of flavor, and built up your immune system. What could be better?"
She added, "The logs pay for themselves in two years. They grow only a few mushrooms at first, but the yields increase with every fruiting as the logs mature. In the second and third year the whole log can be covered with shiitakes."
Sandra and Doug are volunteer mushrooms consultants with ACDI/VOCA, working in Ghana, West Africa, to educate small-scale mushroom farmers and help expand the mushroom industry. They have a research project at Bemcom Youth Enterprises Association in Techiman to identify locally prolific logs that will grow these protein-rich mushrooms. Mushrooms for Well Being Foundation: Mushrooms in Ghana Project is helping build a spawn (the mushroom seed material) laboratory to make spawn for farmers throughout West Africa. Lost Creek Mushroom Farm donates a portion of sales to this project.
Order online at http://www.shiitakemushroomlog.com or by phone at 1-800-792-0053.