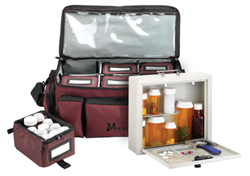 We are dedicated to the safety of all individuals who rely on prescription medication, as well as their families.
Wheeling, Illinois (PRWEB) November 03, 2016
Prescription drugs are the most commonly abused drugs of American teens 14 and older, with 61% saying they are easier to obtain than illegal drugs. Of those who abuse them, 70% get them from family members – without their permission. In the US, about half of the 44,000 people who overdose on prescription drugs each year die as a direct result. Managing medications is another problem. Today, 83% of adults over 60 take prescription drugs yet 76% don't feel they have adequate options for storage and organization.
In response, MMF POS has launched a new line of Locking Medication Cases and a Locking Medication Transport Bag. The new Med-Master® line was carefully designed to keep prescription drugs safe and secure while not compromising accessibility to those that need them.
There are three different versions of the Med-Master Locking Medication Cases. The Premium unit features a wireless RFID lock, as well as a pill sorting tray, illuminated magnifier and dry erase reminder kit. The Deluxe unit has these same features, but is secured by a three digit combination lock, and the Standard unit is secured by a 3 digit combination lock. All three units are constructed with durable steel, for added security and longevity.
The Locking Medication Transport Bag was designed for homecare professionals who need to secure and organize patient's meds and HIPAA paperwork while on-the-go. The bag is made of a water and light-resistant polyester/nylon material and features a lockable main compartment with 2 keys and 6 lockable patient packs. The patient packs hold 6-12 prescription bottles with label areas for identification.
"We are dedicated to the safety of all individuals who rely on prescription medication, as well as their families," said Kevin Schroer, MMF Director of New Product Development. "Our goal is to provide families with a simple, affordable solution to keep prescribed drugs in a designated spot where they can be secured, organized and accessible only by those they are approved for," said Schroer.
The new Med-Master® line was specifically crafted after extensive consumer research – to help keep loved ones safe while providing a convenient option for storage and organization. For over 80 years, MMF POS has provided customer solutions for cash handling, organization and storage. With the introduction of the Med-Master® line, MMF POS is using its experience to ensure that prescription medicines are organized and securely stored to prevent misuse, abuse, and theft.
MMF POS is a leading manufacturer and supplier of cash drawers, credit card payment terminal stands, tablet enclosures and stands, mounting solutions and other accessories for POS markets. The company provides a complete line of product solutions to enhance the retail checkout experience for both retailers and their customers. MMF POS products are ideal for retail, restaurant, night club, bar, specialty, grocery, hospitality, convenience stores, gaming, healthcare, and banking applications.
*US Department of Health and Human Services National Institute on Drug Abuse
*CBS News Report citing Partnership for a Drug-Free America