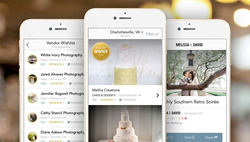 Borrowed & Blue publishes more wedding content than anyone else online.
Charlottesville, Virginia (PRWEB) November 02, 2016
Borrowed & Blue, the wedding vendor marketplace, has announced that is has raised a $7 million Series A led by Boulder-based Foundry Group. This brings the total raised by the Company to $10.1 million.
The Company says it will use the funds to build out its product and marketing teams, expand to the rest of the United States, and launch the world's first transactional marketplace for the wedding industry.
Every year, 2.2 million couples get married in the United States. The average couple spends $24,000 on day-of wedding vendors, making weddings a $53 billion market.
Yet there has been scant new innovation in the industry as a few large players have dominated the wedding landscape with pay-to-play vendor listing directories for years. Other wedding-related sites have focused less on helping couples choose their vendors, and more on offering tangential services (e.g. WedPics, which helps guests share wedding photos with each other, and Joy, a new Y Combinator startup focused on helping couples manage their guest lists and related communications).
Enter Borrowed & Blue, which calls itself The Smarter Way to Wed. Much like a 'Houzz for weddings', B&B is focused on helping couples discover vendors through their work. Every photo on the site is tagged with the relevant vendors whose work is featured, and links to more detailed information about that vendor. The Company publishes more wedding content than anyone else online, adding 350 new weddings a week to its platform. B&B says its audience size has doubled in just the last four months, is servicing millions of visitors a year, and already has 18,000 vendors actively using the service. The Company has an iOS app available in the App Store.
But perhaps even more interesting, Borrowed & Blue's Co-founder & CEO Adam Healey says the firm is currently hard at work on launching the 'first transactional marketplace for the wedding industry,' so couples will be able to book their venue, photographer, planner, and all their other day-of wedding vendors on the platform.
Adam Healey and his wife Christin launched the business in 2011, after going through the frustrating experience of discovering and vetting qualified vendors for their own wedding. Adam is a seasoned entrepreneur who brings extensive travel industry expertise to the wedding industry. He sold his previous business, hotelicopter - a hotel meta-search engine - to Roomkey, a company owned by the six largest hotel chains in the world.
"It's absolutely crazy there's no place today to discover and book wedding vendors online. A typical wedding is comprised of 15 to 25 transactions, that collectively will be the largest investment most couples have made in their lives up until that point. We're focused on helping everyone have the beautiful wedding of their dreams, and creating an efficient marketplace where couples can discover and book their wedding vendors. We like to think of our vision as providing couples with the ultimate operating system for their wedding."
Borrowed & Blue is based in Charlottesville, Virginia and also has offices in Boulder, Colorado. Foundry Group partner Jason Mendelson will be joining the Company's Board of Directors. Foxhaven Asset Management, Accomplice VC, Galvanize Ventures, and Service Provider Capital also participated in the round.
About Borrowed & Blue
Borrowed & Blue is a wedding vendor marketplace focused on helping couples imagine, plan and book the wedding of their dreams. The Company helps connect couples with wedding vendors across the United States, and is based in Charlottesville, Virginia, with additional offices in Boulder, Colorado.
About Foundry Group
Foundry Group is a venture capital firm focused on making investments in early-stage information technology, Internet and software startups. Our passion is working alongside entrepreneurs to give birth to new technologies and to build those technologies into industry-leading companies. We're centrally located in Boulder, CO, but we invest in companies across North America.