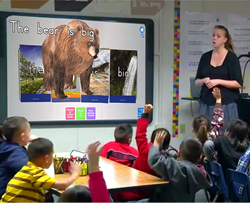 "WOW, WOW, WOW!! This is truly the coolest thing ever. I cannot wait to share near and far!", Debbie Linville, Literacy Consultant
Atlanta, GA (PRWEB) November 02, 2016
Alive Studios is an educational software company based in the Atlanta area with a line of classroom solutions that helps kids become proficient in reading and math using the mind-blowing technology, augmented technology. The company's supplemental curriculum uses 3D augmented reality magic, which allows their 26 animal characters (A to Z) to spring to life. "We are beyond excited to show off our latest features! For the last few years, Letters alive has been a game-changer for improving early literacy skills; With Letters alive Plus, teachers are just going to flip!" exclaimed Cynthia B. Kaye, CEO and Chief Zoo Keeper of Alive Studios.
Letters alive Plus uses evidence-based instruction to teach the foundations for reading and is aligned to state standards for kindergarten. In addition to its eye-popping and interactive 3D graphics, Letters alive uses a cross-curricular approach by tying in sciences. Early learners are taught animal facts while learning letter names, letter sounds, sight words, and sentence building. "By incorporating a differentiated learning experience that taps the key learning modalities, we're able to increase engagement across all learners including ELL, At Risk, and Special Needs," added Kaye. This non-conventional, technology-based instruction is credited by many of its users as one of the biggest contributors to improved literacy scores.
As a result of dialoguing with teachers across the country, the company went back to their development team with a list of requested features and enhancements. "After six months of intense development, we're ready to show off the new Letters alive Plus at NAEYC in Los Angeles and GaETC in Atlanta!" said Kaye. One of the biggest additions is the new Word Building module. A new deck of Word Family cards (including digraphs, blends, and rimes) allows users to build over 900 three to seven letter words phonetically. Children can place combinations of letter, digraph, blend, and rime cards together to build words in 3D. Valid words are met with immediate feedback including the word being displayed digitally on screen and read aloud. "I am so excited for children to get this resource into their hands!!" stated Debbie Linville, Children's Author and Literacy Coach. The company's goal is to help over a million early learners become proficient in reading and math by 3rd grade.
Other enhancements include virtual buttons that are now on screen for learning more about letters, word families, and the 26 animal characters. These on-screen virtual buttons can be easily manipulated via touchscreen or mouse-click, which makes the software super-friendly with interactive whiteboards. Overall, the company strives to deliver a solid and engaging experience. "As augmented reality technology continues to evolve, we are able to capitalize on those improvements and plug them into our solutions for early literacy," stated Kaye.
As part of the finalization of the software development, the company formed an advisory team of teachers, college professors, literacy coaches, and children's authors. Dr. Jennifer K. Allen, Assistant Professor of Literacy and Special Education said, "The Alive Studios team has masterfully created a revised and improved version that encompasses more challenging skills and curriculum ... making this supplemental literacy program a perfect fit for the modern literacy classroom." Existing Letters alive users will be able to easily purchase upgrades from the company's website.
Company Information
Alive Studios provides supplemental reading and math solutions for PreK-3rd grade. They are the world's first company to develop an Augmented Reality curriculum for early education. For more information on Alive Studios' full suite of educational products, please visit their website at http://www.AliveStudiosCo.com.