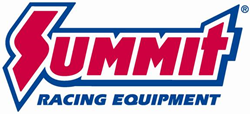 Tallmadge, OH (PRWEB) November 29, 2016
Summit Racing now carries JLT Performance Cold Air Intakes and Components for late model musclecars and trucks. A JLT Series 1 cold air intake on a late model 5.7L Hemi Challenger can add 10 to 15 rear wheel horsepower and 10 to 15 lbs.-ft. of rear wheel torque.
Cold Air Intakes
JLT Performance cold air intake kits are computer designed to optimize space with OEM fit and finish. The intakes feature a large diameter plastic intake tube with a smooth, tapered path from the filter element to the throttle body. The throttle body inlet is sized to accept most large-diameter throttle bodies. The tube keeps the intake air charge nice and cool to further improve horsepower. The intakes also feature a heat shield that seals to the hood to help keep hot air out.
The kits include a reusable filter element, silicone reducer, stainless steel clamps, and installation hardware. Many cold air intakes are available painted to match an owner's vehicle or with JLT's unique Hydrocarbon simulated carbon-fiber finish — check with a Summit Racing rep for more information. NOTE: Some intakes require tuning for best results.
Applications

1996-2016 Mustang including Shelby
1997-2015 Ford F-150
2010-15 Camaro SS and ZL1
2005-15 Dodge Magnum, Charger, Challenger, 5.7L and 6.1L Hemi
Oil Separators
Late model engines, especially those with superchargers or turbos, have a bad habit of leaving oil vapor all over your air intake and intake manifold runners as they vent crankcase pressure back through the intake tract. A JLT Oil Separator can fix this problem. The billet aluminum separator has a fine mesh stainless steel screen that traps oil vapors; once the oil is heavy enough, it's released to pass through a second, half-inch thick aluminum honeycomb filter. By the time the oil gets large enough to get through that filter, it falls to the bottom of the separator and stays there until you empty it. That keeps oil out the intake tract.
JLT Oil Separators hold three ounces of fluid and have an knurled, O-ring sealed base that's easy to remove. Drain the separator every 5,000-7,000 miles and never worry about it filling up.
Applications

1999-2010 Mustang
2006-10 Charger, Magnum, and Challenger Hemi
Summit Racing also carries other JLT Performance parts including air filter elements, wraps, and prefilters plus grille inserts and brake cooling kits.
Summit Racing Equipment
http://www.summitracing.com
1-800-230-3030