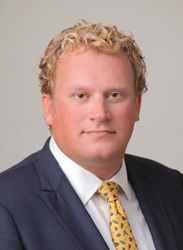 Julian's skills and experience well complement our strategic litigation focus. He will be an outstanding addition to a department with a long tradition of excellence.
New York, NY (PRWEB) November 01, 2016
Phillips Nizer LLP welcomes commercial litigator and trial lawyer Julian D. Perlman as a partner in the firm's Litigation, Antitrust, and Fashion Law practices in its New York office.
Mr. Perlman joins Phillips Nizer from the New York office of BakerHostetler LLP. He began his legal career with Proskauer Rose LLP.
Representing businesses, entrepreneurs and investors in inter- and intra-company disputes, Mr. Perlman has significant experience in handling trial and arbitration matters to their conclusions. He represents emerging companies, executives, and artists on a full range of litigation matters, and advises clients regarding corporate formation and governance issues, shareholder relationships and agreements, intellectual property rights, competition, and general employment questions.
Mr. Perlman has been particularly active in handling matters for fashion designers, manufacturers and retailers, consumer goods manufacturers and retailers, high-net-worth individuals, producers, filmmakers, photographers, illustrators and other visual artists, as well as non-profit entities and trade associations.
Mr. Perlman previously served as a lead attorney in a noteworthy copyright lawsuit by a class of visual artists claiming infringement by the Google Book Project. At BakerHostetler, he was a member of the trustee's team of attorneys who handled the recovery and distribution of over $11 billion from the Bernie Madoff Ponzi scheme, and while at Proskauer, played a key role in winning a unanimous jury decision for the ATP World Tour in a far-reaching antitrust verdict for professional sports.
"Julian's skills and experience well complement our strategic litigation focus. He will be an outstanding addition to a department with a long tradition of excellence," said Mark M. Elliott, the Chair of Phillips Nizer's Litigation Department.
Prior to attending law school, Mr. Perlman served on the 1998 re-election campaign for then Delaware Attorney General and now current judge on the Superior Court of Delaware, M. Jane Brady, and worked in the press office of former Pennsylvania Governor and Philadelphia Mayor Edward G. Rendell. Mr. Perlman has also run a folk art gallery in New Orleans and interned on "Saturday Night Live".
Mr. Perlman earned his J.D. cum laude from Tulane Law School and a Bachelor of Arts degree with honors from Wesleyan University. He is admitted to practice in New York, and the U.S. District Courts of the Southern and Eastern Districts of New York.
About Phillips Nizer LLP:
Phillips Nizer, founded in 1926, represents domestic and international clients in business, finance and real estate transactions, intellectual property matters, commercial litigation and tax and estate planning, with a particular focus on the entertainment, fashion, real estate and technology industries.
Established by world-renowned trial attorney Louis Nizer, Phillips Nizer's principal office is in Manhattan, with additional offices in Garden City and East Hampton, Long Island, and Hackensack, New Jersey. The firm is a member of Ally Law, an association of independent, mid-sized law firms worldwide. To learn more about Phillips Nizer LLP, visit: http://www.phillipsnizer.com.
###