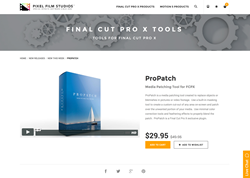 ProPatch allows FCPX editors to replace objects and blemishes in pictures or video footage with complete ease
Aliso Viejo, California (PRWEB) November 01, 2016
"ProPatch allows FCPX editors to replace objects and blemishes in pictures or video footage with complete ease," said Christina Austin - CEO of Pixel Film Studios.
ProPatch is a tool created exclusively for use within Final Cut Pro X. With ProPatch users can patch over unwanted objects or fix minor blemishes in pictures and videos. Utilize feathering, and minor color correction controls to better blend the patch to the surroundings of the problem area. ProPatch is the easiest way to disappear objects and fix problem areas in footage.
This plugin features a built-in masking tool that allows users to cut-out subject matter with the click of a mouse. Start by clicking on the screen to create points to surround the subject. Double-click a point to change its interpolation from linear to curved. "Command + Double-click" to delete a point. Double-click the line to add a point. Pixel Film Studios' built-in masking tool makes it easy to get a crispy cut-out.
Using ProPatch is simple in FCPX. Start by identifying the area to patch over. Next, identify a spot in the media that matches the scenery surrounding the problem area. Next create the patch mask around this area. Lastly, utilize the feather, brightness, and saturation controls to composite the patch into the scene.
This effect is best used with tripod shots and still images. With erratic camera shots, unwanted objects generally enter the patch area and will ruin the effect. The patch can be keyframed to match shots with slight movement but the effect is best when the contents of the patch stay consistent throughout the clip.
Established in 2006, Aliso Viejo, California-based Pixel Film Studios is an innovative developer of visual effects tools for the post-production and broadcast community. Their products are integrated with popular non-linear editing and compositing products from Apple FCPX. Apple, the Apple logo, Mac OS X, and Macintosh are registered trademarks of Apple Inc. in the U.S. and/or other countries. All other trademarks and trade names are the property of their respective owners.